Regular price
$149.00 USD
Regular price
Sale price
$149.00 USD
Unit price
per
Sale
Sold out
The 'Body Rituals Discovery Set' is more than a collection of products; it's a ritual, a journey to self-discovery, a celebration of the beauty and power inherent in nature and within you. It's an invitation to indulge in self-care, to take a moment for yourself, and to transform everyday routines into luxurious rituals. Each product is crafted using natural, organic ingredients and potent crystals, harnessing their energy and healing properties to nourish not just your skin, but your mind and spirit as well.
This set makes an exquisite gift, perfect for any special occasion. It's not just a present; it's an offering of wellness and tranquility, wrapped in one luxurious package. Offer your loved ones the gift of relaxation and balance with our Deluxe Scent Set, a unique present that fosters well-being and invites them to indulge in a sensory journey of natural aromas.
Share
View full details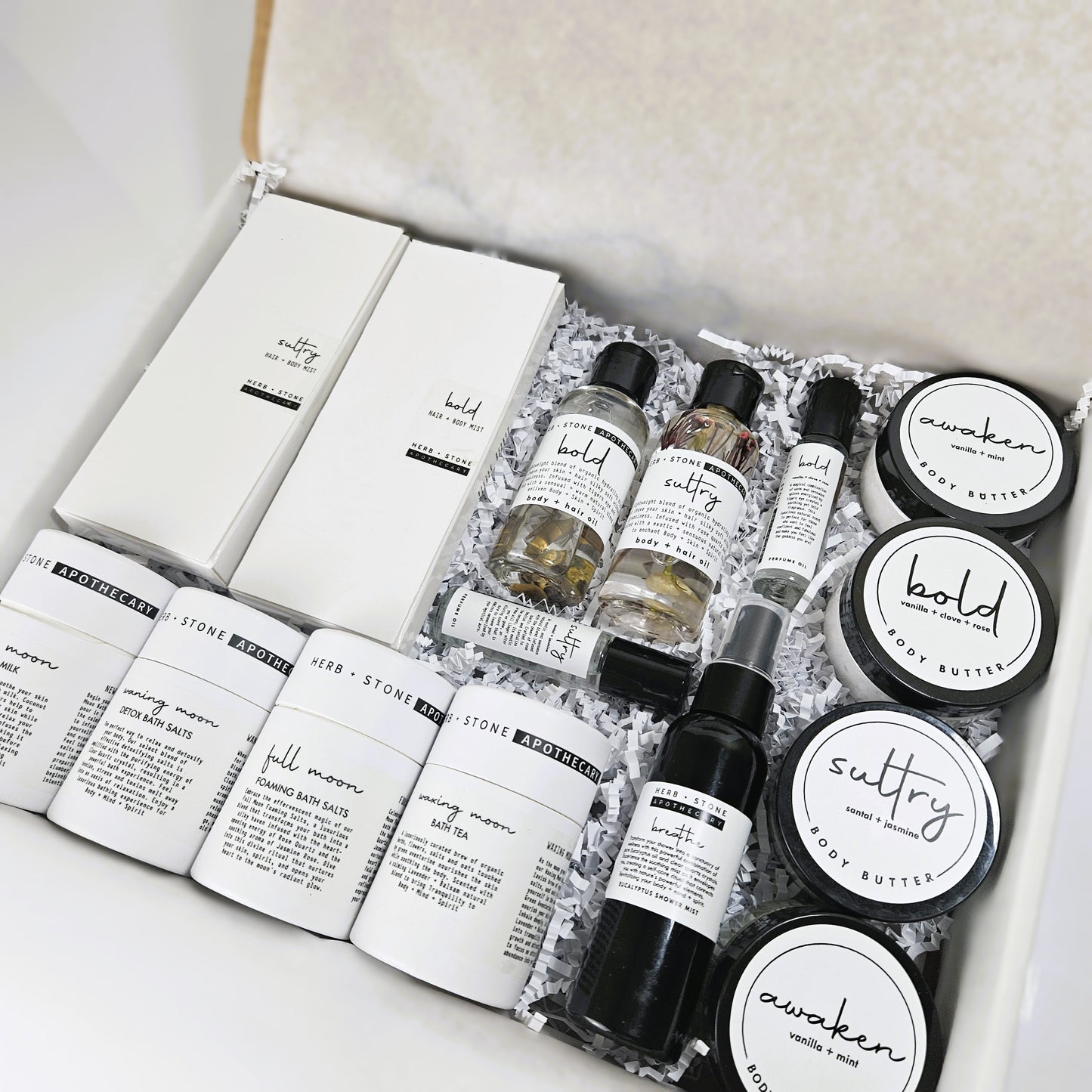 This set is your passport to a holistic beauty and wellness experience, an invitation to pause, to breathe, to connect with your inner self amidst the chaos of everyday life. Whether you're at home or on the go, the 'Body Rituals Discovery Set' allows you to create a spa-like sanctuary wherever you are. Immerse yourself in this transformative ritual, and emerge with radiant skin, a calm mind, and a rejuvenated spirit.
THIS SET INCLUDES:
4 BATH SOAKS- 2OZ: Immerse yourself in the celestial embrace of the Lunar
Bath Soaks. Infused with organic herbs and powerful crystals, each soak is an
invitation to release the day's stresses under the watchful gaze of the moon.
3 BODY BUTTERS IN BOLD, SULTRY AND AWAKEN - 2OZ: Nourish your skin with
our selection of Body Butters. Each butter is a harmonious blend of organic
ingredients, designed to hydrate, soften, and rejuvenate your skin, leaving it
radiant and silky smooth.
AWAKEN BODY SUGAR SCRUB- 2OZ: Experience the gentle yet effective
exfoliation of our Body Sugar Scrub. Enriched with natural sugars and essential
oils, it sloughs away dead skin cells, revealing a fresh and glowing complexion
beneath.
2 BODY OILS IN BOLD AND SULTRY- 2OZ: The Body Oils in this set are more
than just moisturizers—they're a sensory experience. Infused with precious oils
and potent crystals, they envelop your skin in a luxurious veil of hydration,
while their grounding scents soothe your senses.
2 HAIR + BODY MISTS IN BOLD AND SULTRY- 10ML: Refresh and rejuvenate
throughout the day with our Hair + Body Mists. Each mist is a vibrant symphony
of natural ingredients, designed to uplift your mood and awaken your senses.
2 PERFUME OILS IN BOLD AND SULTRY- 5ML: Our Natural Perfume Oils, crafted
from pure essential oils, wrap you in a cocoon of earthy, sensual scents,
anchoring you in the present moment.
BREATHE SHOWER MIST- 1OZ: Transform your shower into a steamy oasis with
our Eucalyptus Shower Mist. Infused with pure eucalyptus oil, it revitalizes
your spirit and immerses you in a therapeutic cloud of aromatic bliss.