Regular price
Sale price
$98.00 USD
Unit price
per
Sale
Sold out
Reset Mini Collection: The Perfect Combination of Products for Your Best Skin Yet!
Step into the realm of holistic beauty and wellness with our carefully curated Reset Mini Collection. Each product in this divine selection is a testament to the power of nature, helping your skin to rediscover its youthful vitality and glow.
The Reset Mini Collection Discovery Set  is more than just skincare; it's a ritualistic journey towards radiant, youthful skin. It makes a thoughtful gift for anyone who appreciates the transformative power of organic, natural ingredients.
Let the journey begin, and prepare to turn back the hands of time with our Reset Mini Collection.
Share
View full details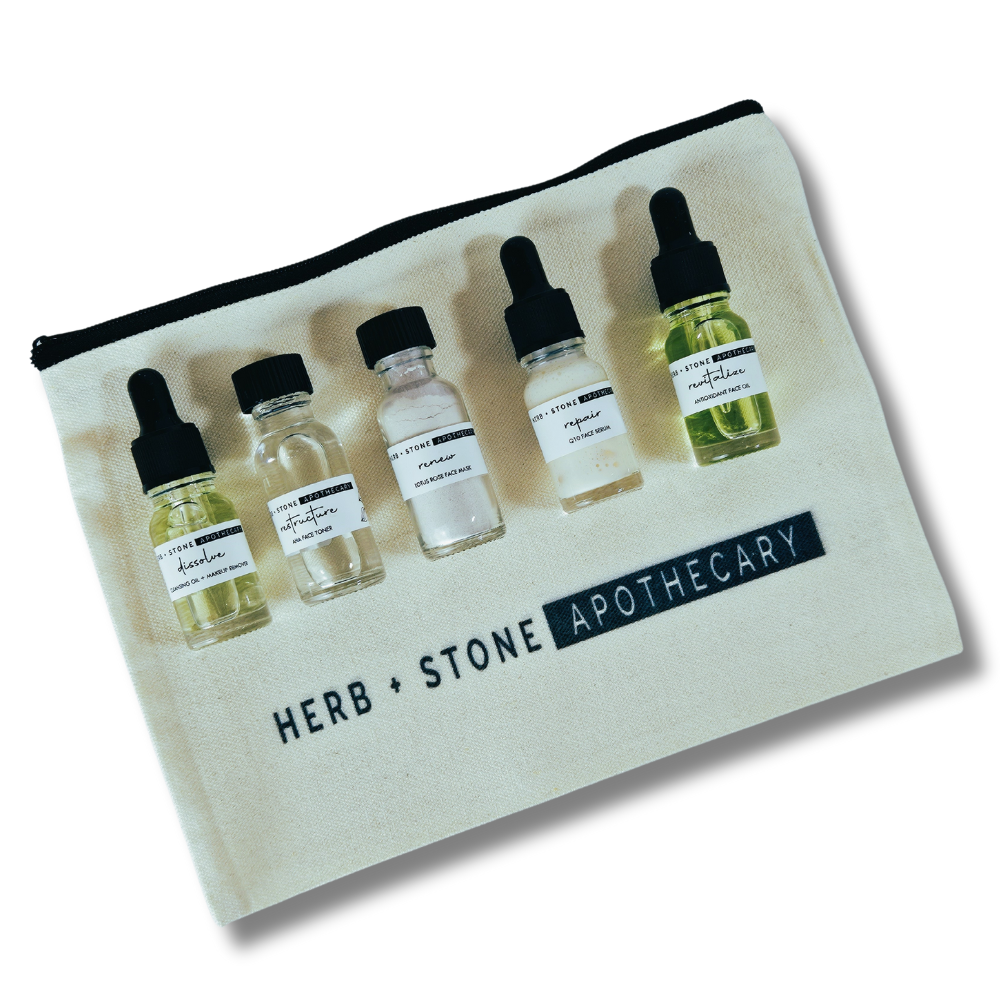 RESET MINI COLLECTION INCLUDES:
DISSOLVE Cleansing Oil - 10ml: Immerse yourself in the transformative ritual of cleansing with this luxurious oil. Infused with natural organic ingredients and potent crystals, it effortlessly dissolves makeup, dirt, and impurities. The result? A complexion that's perfectly clean, balanced, and ready for the next step in your skincare journey.
RESTRUCTURE AHA Toner - 15ml: This toner is a powerful concoction of Alpha Hydroxy Acids (AHAs) that work harmoniously to gently exfoliate and resurface your skin. As you sweep it over your face, embrace its invigorating sensation as it reveals a smoother, more radiant complexion.
RENEW Lotus + Rose Mask -15ml: Indulge in the soothing ritual of masking with our Lotus + Rose mask. Its organic ingredients are known for their potent rejuvenating properties, helping to refresh and renew your skin. As you rinse it off, feel your skin's renewed vitality and softness.
REPAIR Q10 Anti-aging Serum - 10ml: This serum is a potent blend of Coenzyme Q10 and organic botanicals designed to combat the signs of aging. As you apply it, imagine it working beneath the surface, helping to reduce the appearance of fine lines and wrinkles while promoting a youthful glow.
REVITALIZE Antioxidant Anti-aging Face Oil - 10ml: Our face oil is a potent elixir of antioxidants and organic oils designed to nourish and rejuvenate. As you massage it into your skin, envision the powerful
antioxidants fighting off free radicals and the organic oils deeply nourishing
your skin, leaving it revitalized and glowing.
Completing this holistic beauty experience, the Reset Mini Collection also includes:
ORGANIC CLEANSING CLOTH : The soft, gentle cloth is perfect for removing the DISSOLVE Cleansing Oil
CANVAS COSMETIC BAG: The chic cosmetic bag is ideal for storing your skincare treasures.