Regular price
Sale price
$45.00 USD
Unit price
per
Sale
Sold out
Step into a world of tranquility and warmth with our WARM + COZY aromatherapy set, designed to envelop your senses in a cocoon of relaxation, whether you're at home or on the go. Elevate your space and your mood with the perfect fusion of crystal wax melts, room and linen spray, and a car diffuser, each crafted to enhance your environment with long-lasting luxurious scents and enchanting seasonal fragrances.
AVAILABLE IN 2 SCENTS
Scent Profiles:
SPICE- This warm fragrance is perfect for creating a cozy and inviting ambiance. Infused with Black Obsidian, a protection and grounding stone that helps us feel more connected to the earth. This classic scent has just the right amount of spice and sweetness, making it perfect for filling any space with a touch of magic.
WINTER ROSE- Welcome winter with the enchanting scent of Winter Rose! This winterly blend of white rose and spruce will transport your space to a winter wonderland evoking feelings of warmth and joy.  Infused with snow quartz crystals, this fragrance is the perfect complement to the winter solstice season as it captures all the purity and innocence of a fresh snowfall.
Share
View full details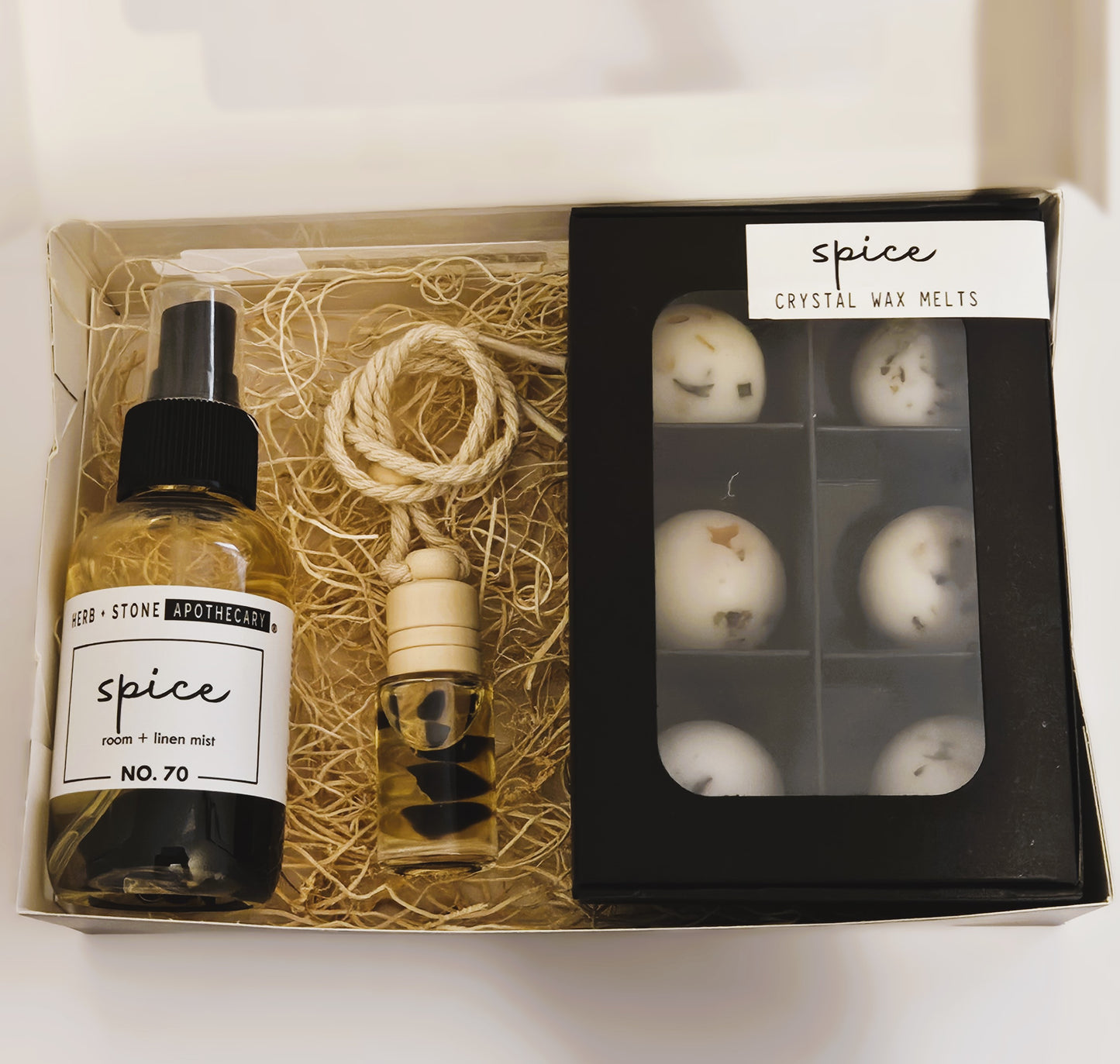 Embrace the transformative power of aromatherapy, where every inhale is an escape into bliss, and every exhale is a release of tension. Watch enchantment unfold within the comfort of your home and accompany you seamlessly on your journeys.
CRYSTAL WAX MELTS: Unveil the Magic Within - Experience the enchantment as our crystal wax melts delicately release their hidden gems, revealing sparkling crystals as hey melt. Crafted for those who appreciate the finer details, these wax melts ot only infuse your space with a captivating aroma but also add a touch of visual delight. The scents linger, and the crystals emerge, creating a ultisensory experience that transforms your surroundings into a haven of serenity.
ROOM AND LINEN SPRAY: A Symphony of Seasonal Scents-As the world undergoes its seasonal
metamorphosis, so should your surroundings. Our all-natural Room + Linen mists offer an olfactory journey, harmonizing the luxurious aromas with the seasons. Carefully curated, these seasonal scents create a rich, inviting atmosphere that resonates with the essence of the changing season. Spritz it on linens, curtains, or simply into the air for an instant retreat into tranquility.
CAR DIFFUSER: Serenity on the Move -Take the warmth and coziness with you wherever you go with our car diffuser. Transform your car into a sanctuary with the same luxurious scents that grace your home. Commute in comfort as the fragrances blend seamlessly, creating a personal oasis during your daily travels. The compact design ensures that relaxation is just a drive away, making every journey a serene escape.
THE PERFECT GIFT FOR AN EXQUISITE SENSORY JOURNEY CRAFTED FOR WELL-BEING.
Indulge in the art of self-care or treat a loved one to the gift of relaxation. Our WARM + COZY aromatherapy set is more than just a collection of products; it's a sensory experience designed to enhance well-being. Elevate any space, uplift spirits, and share the gift of tranquility, a precious escape in our
ever-changing world. Because moments of serenity are not just a luxury but a
deserving and thoughtful gift for yourself or a loved one.