Regular price
Sale price
$54.00 USD
Unit price
per
Sale
Sold out
Step into a sanctuary of opulence and well-being with a Special Edition Awaken Body Essentials Set. This luxurious trio of Awaken Body Scrub, Awaken Body Butter and Sisal Exfoliating Mitt is an indulgent ritual that nourishes your skin, invigorates your senses, and revitalizes your spirit.
Share
View full details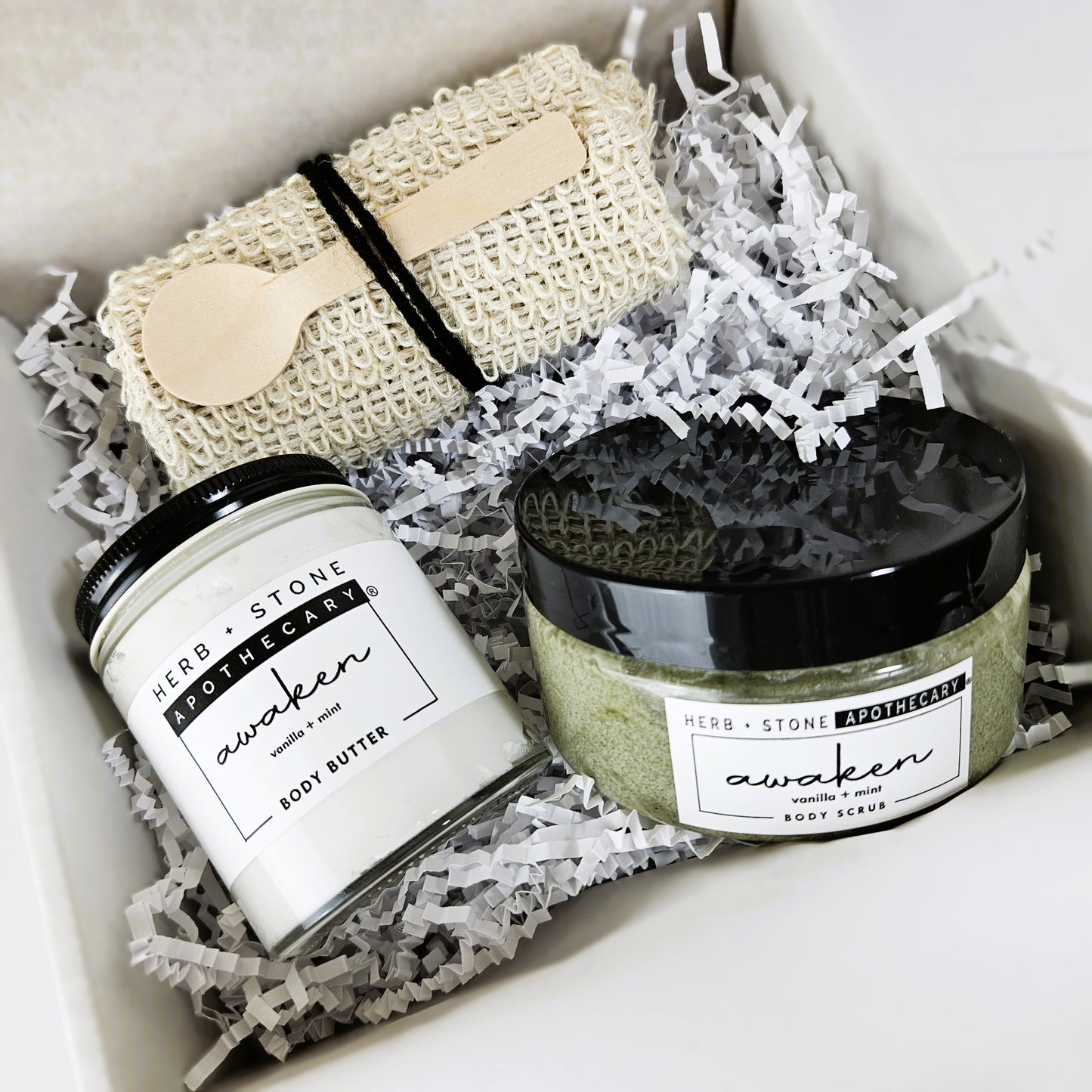 The Awaken Body Essentials Set makes an exquisite gift, an invitation to indulge in a ritual of self-care and wellness. Perfect for anyone seeking a moment of bliss, this set is more than a beauty regimen; it's a journey towards awakened radiance and holistic well-being.
Begin with the Awaken Body Scrub, a luscious blend of organic ingredients
designed to gently exfoliate and refresh your skin. Infused with the
invigorating aroma of peppermint and vanilla, this scrub carries the radiant
energy of Citrine, known for its awakening properties. As you massage your
skin, feel the tiny granules slough off dead skin cells, revealing a soft,
renewed glow underneath.
Follow this rejuvenating ritual with the deeply nourishing Awaken Body
Butter. This rich, hydrating cream seamlessly melts into your skin, leaving it
feeling supple and moisturized. The harmonious blend of vanilla and peppermint
essential oils creates a sensory symphony, while the infusion of Citrine
elevates your aura, leaving you feeling relaxed yet invigorated.
Every set also includes a sisal body mitt, perfect for enhancing the
exfoliating power of the scrub and boosting circulation. Together, these
products create a holistic beauty experience that awakens the body, calms the
mind, and uplifts the spirit.