The Perfect Stocking Stuffers, whether for a cherished someone or a delightful treat for yourself.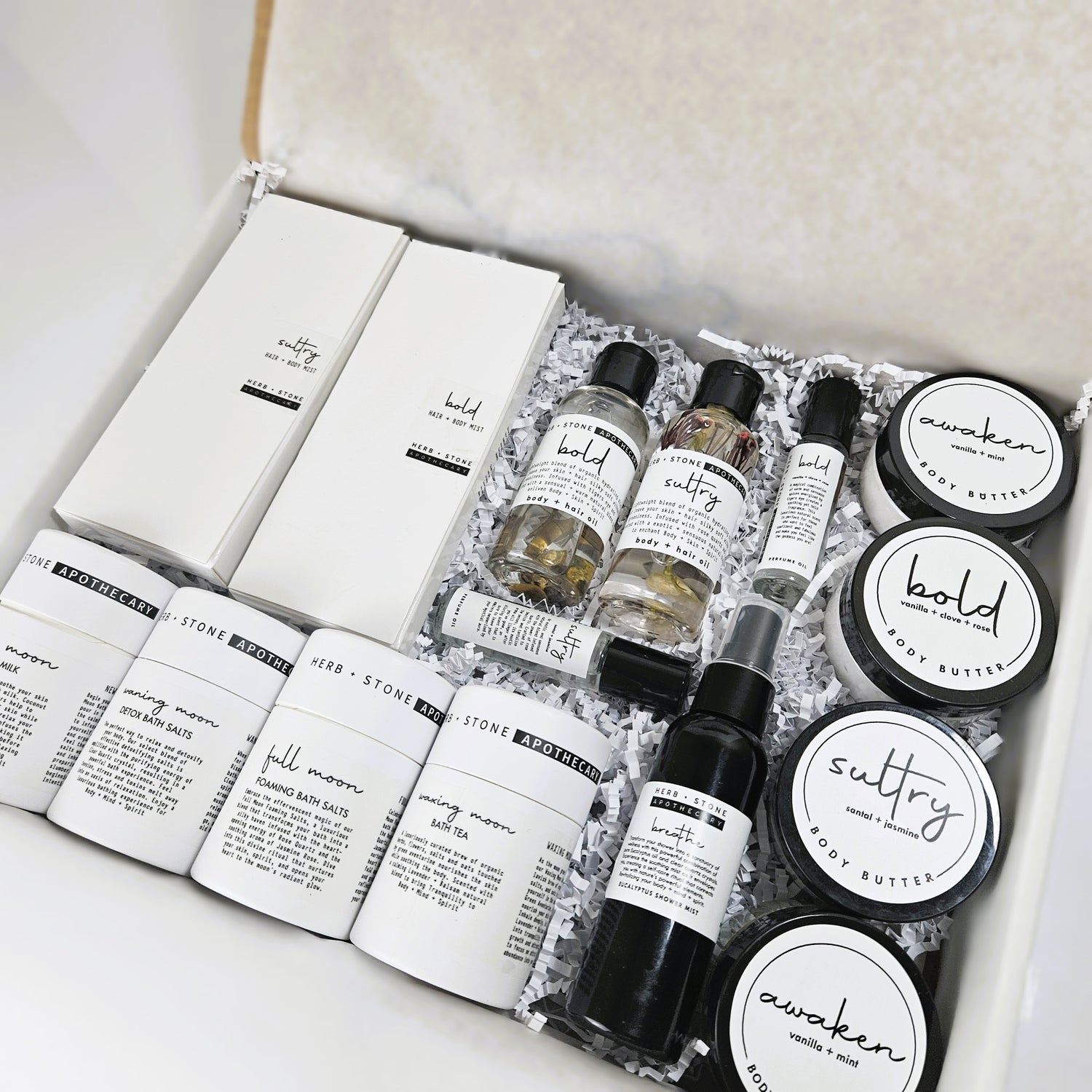 THE ULTIMATE GIFT OF SELF-CARE
Unearth the magic of self-care with our Body Rituals Discovery Set. A luxurious curated collection of 15 best-selling treasures, each product is a testament to holistic luxury, harnessing the powerful synergy of organic ingredients and potent crystals. Dive into tranquility, embracing healing and relaxation at its finest. Give the gift of serene moments and elevated wellness. Pamper yourself or a loved one - because you're worth it.
SHOP NOW
NEW SEASONAL ROOM + LINEN MISTS AROMAS
SPICE

 This warm fragrance is perfect for creating a cozy and inviting ambiance. Infused with Black Obsidian, a protection and grounding stone that helps us feel more connected to the earth. This classic scent has just the right amount of spice and sweetness, making it perfect for filling any space with a touch of magic.

 

WINTER ROSE

Welcome winter with the enchanting scent of Winter Rose! This winterly blend of white rose and spruce will transport your space to a winter wonderland evoking feelings of warmth and joy.  Infused with snow quartz crystals, this fragrance is the perfect complement to the winter solstice season as it captures all the purity and innocence of a fresh
snowfall.
Discover the Herb + Stone Apothecary difference - a intersection of beauty, wellness, and mindful rituals.
A unique fusion of beauty + wellness powered by nature's bounty and crystal energy.
Our commitment to nurture both physical and emotional well-being shines through our high-quality, effective products. Every item we create is a blend of the finest organic ingredients and potent crystals, offering more than surface-level beauty. With Herb + Stone Apothecary, you're embarking on a skincare journey that fosters a deep connection between body, skin, and spirit.
NATURAL | VEGAN| HANDCRAFTED IN SMALL BATCHES
Immerse yourself in a ritualistic skincare experience, where beauty meets wellness and every application is a step towards a more luminous you. Embrace the transformative power of natural and organic ingredients, coupled with potent crystals, and let your skin reveal its true, beautiful potential.