Regular price
Sale price
$42.00 USD
Unit price
per
Sale
Sold out
This lightweight, yet potent serum is specially crafted to elevate your morning ritual and empower your skin to face the day with confidence. Our formula harnesses the gentle power of plant derived Bakuchiol, a natural alternative to retinol that works to reduce the appearance of fine lines and improve skin texture without causing irritation. It's complemented by nourishing organic ingredients like hydrating hyaluronic acid, olive squalane, and rose quartz crystals creating a blend that works in harmony with your skin to rejuvenate and protect.
INGREDIENTS

Water, DMAE, Aloe Vera Juice, Vegetable Glycerin, Bakuchiol Extract, Olive Squalane, Hyaluronic Acid, Xanthan Gum, Silver Dihydrogen Citrate, Essential Oil Blend, Rose Quartz
Share
View full details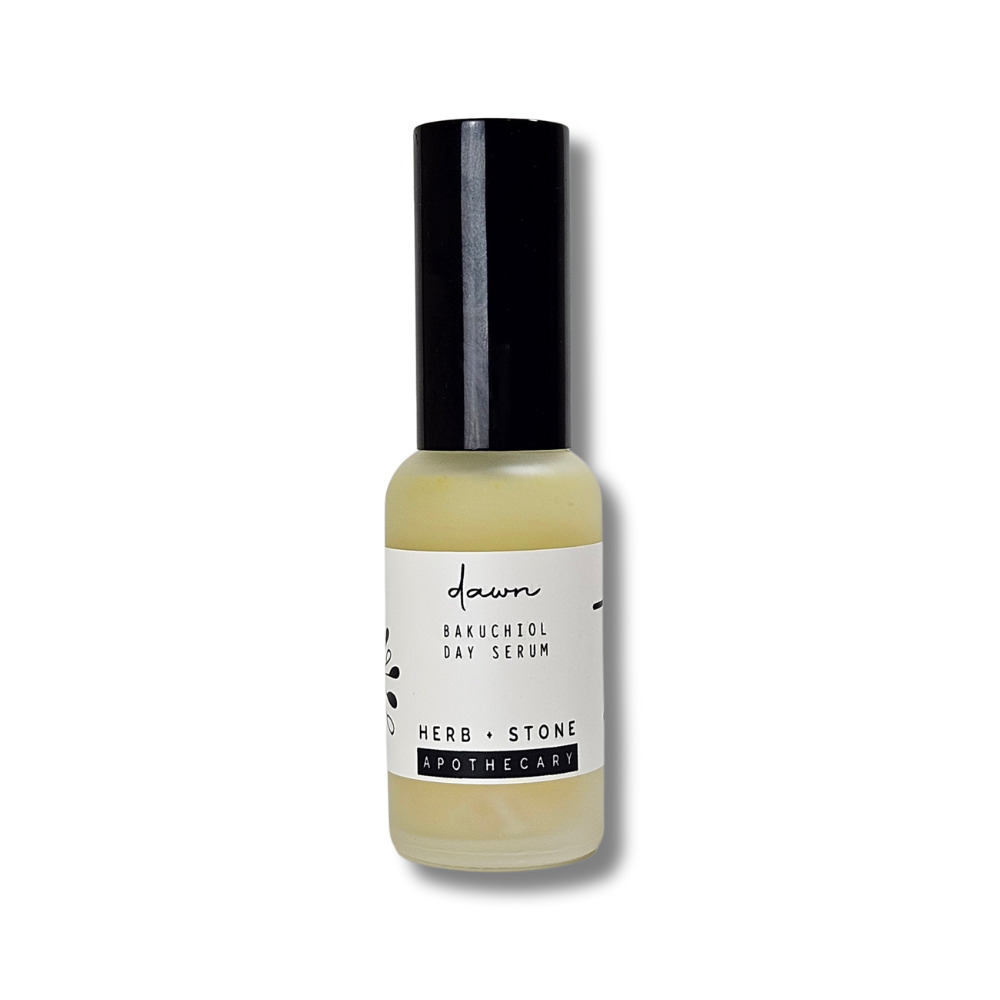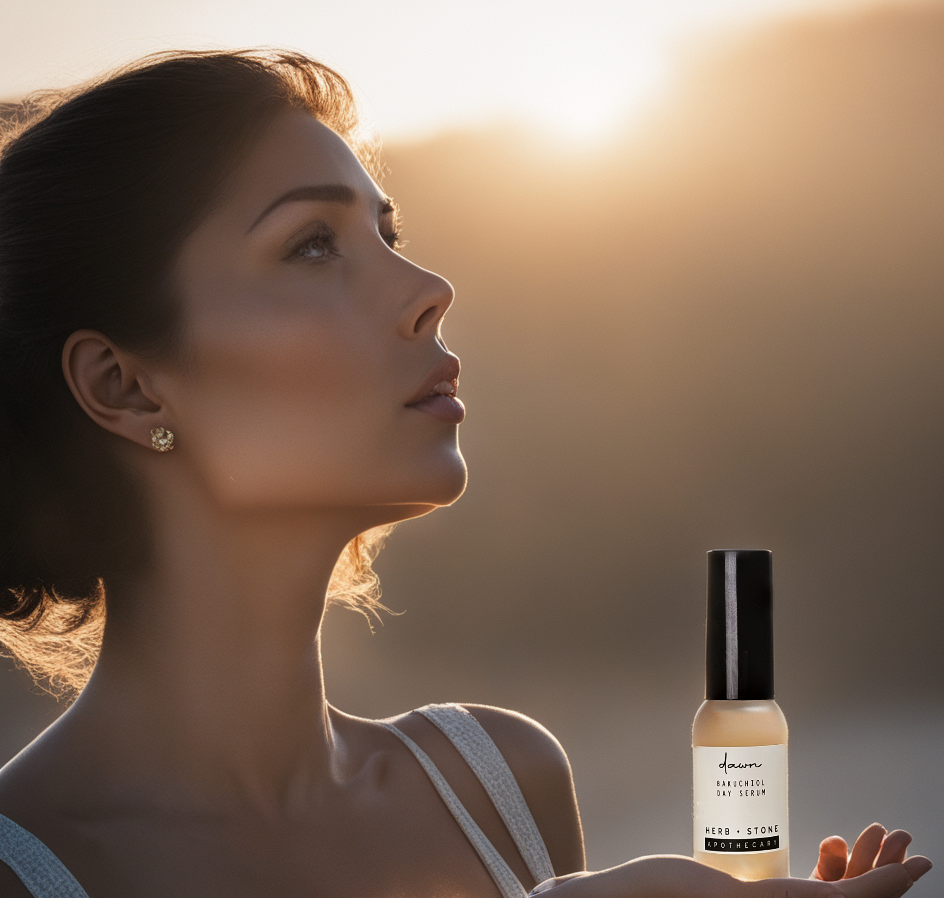 BENEFITS
Elevated Morning Ritual: This lightweight, yet potent serum is designed to uplift and empower your morning skincare routine, setting a confident tone for the day.
Gentle Power of Bakuchiol: Harnessing the gentle yet effective power of plant-derived Bakuchiol, a natural retinol alternative, the
serum works to diminish fine lines and enhance skin texture without causing irritation.
Nourishing Organic Ingredients: Infused with hydrating hyaluronic acid and olive squalane, this serum nourishes the skin, promoting a healthy and radiant complexion.
Crystal Enriched: Enriched with rose quartz crystals, known for their healing properties, it adds an element of holistic wellness to your
skincare ritual, going beyond surface-level beauty.
Harmonious Blend: The serum creates a blend that works in perfect harmony with your skin, rejuvenating and protecting it from environmental stressors.
Visible Improvement: Regular use of this serum leads to visibly smoother, firmer, and more youthful-looking skin, reflecting the serene
beauty of nature's purest elements.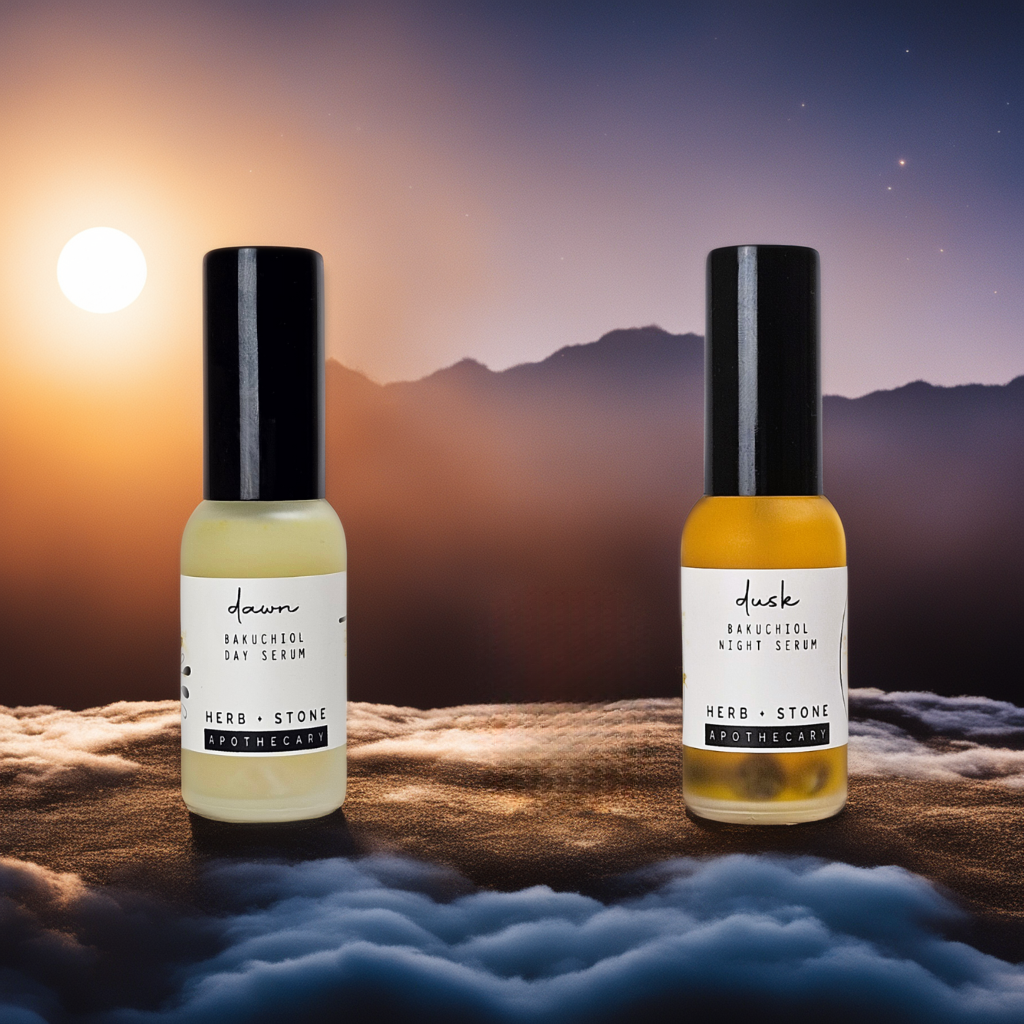 DAY + NIGHT
Elevate your skincare experience to new heights by harnessing the power of both Dawn and Dusk serums. They work in perfect harmony to bring out the best in your complexion that radiates smoothness, firmness, and youthful suppleness. Together, Dawn and Dusk create a symphony of natural perfection, where beauty and wellness converge, allowing you to embrace each day with confidence and grace.
ADD DUSK NIGHT SERUM NOW