Regular price
Sale price
$45.00 USD
Unit price
per
Sale
Sold out
Unearth the secrets of nature and wellness with our revolutionary cellulite-fighting set. This powerful duo of the Java Sculpt Cellulite Oil and cellulite massage tool is your key to reduce the appearance of cellulite.
Java Sculpt Cellulite Oil, a potent elixir steeped in the power of organic ingredients and infused with potent crystals. The oil's unique blend harnesses the power of coffee and caffeine extract that work in perfect harmony to tone and firm your skin. This botanical symphony seeps deep into your skin, redefining its texture and imbuing it with a youthful glow. 
When combined with the massage tool, the oil's performance is amplified. This tool, carved from nature's finest wood, enhances the oil's potency, stimulating circulation and encouraging the dispersion of cellulite.
This Set includes: Java Sculpt cellulite oil 1 oz. + Wooden cellulite massager
INGREDIENTS

Purnus Amygdalus Dulcis Oil (Sweet Allmond Oil), Coffea Arabica (Green Coffee Oil and Coffee Bean oil), Phormium Tenax (Harakeke Oil), Tocopherol (Vitamin E), Natural fragrance, Red Jasper
Share
View full details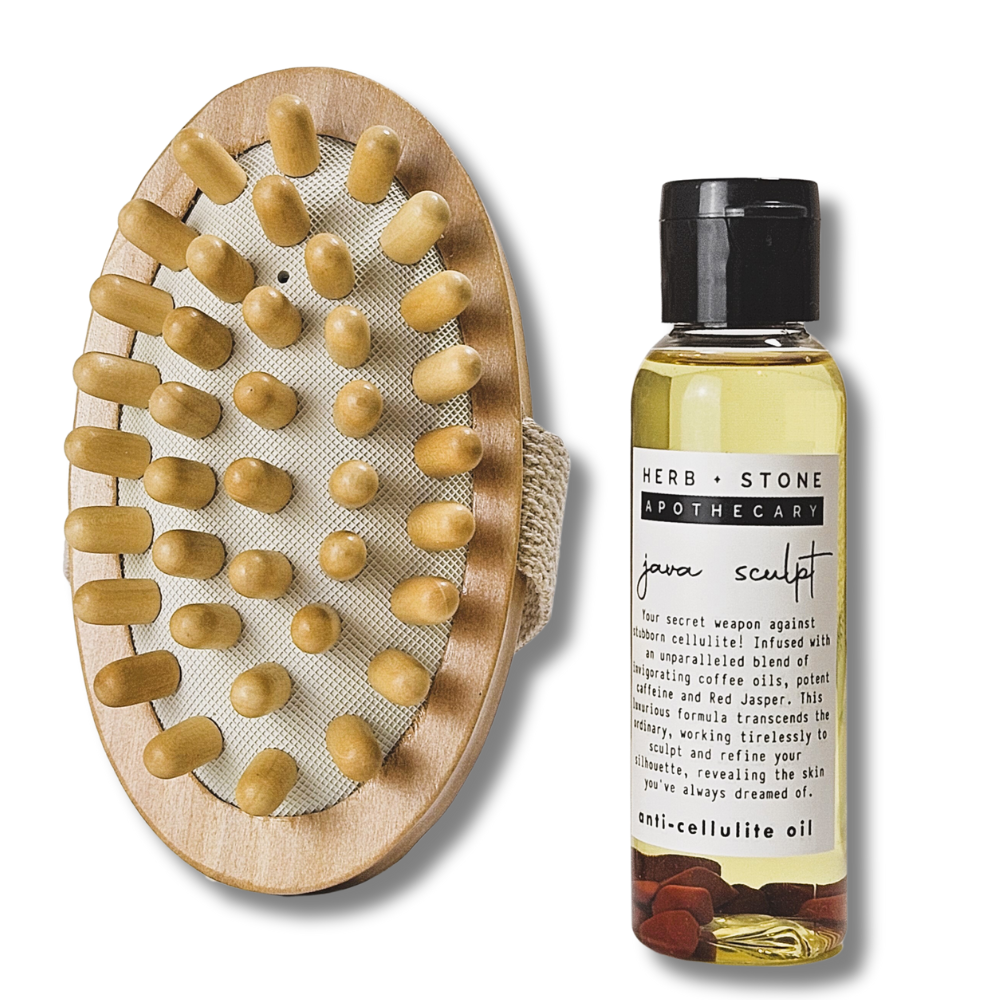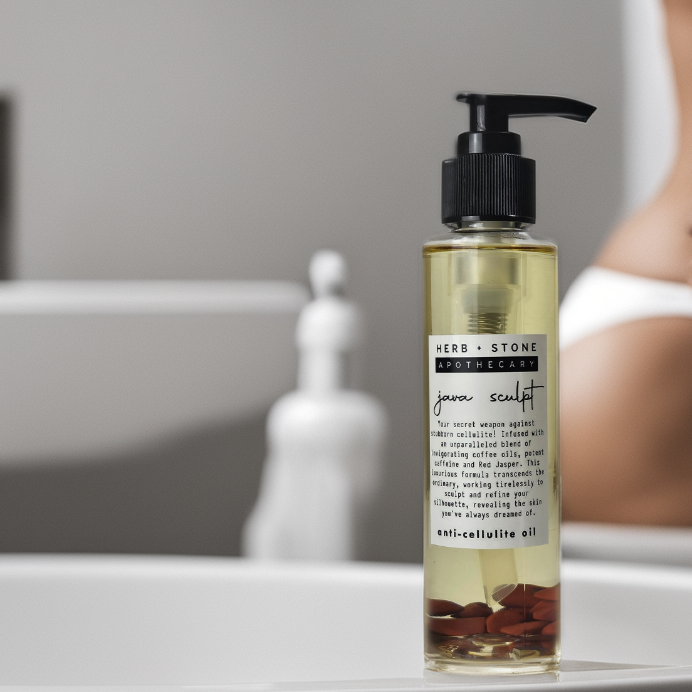 Cellulite Reduction: Effectively targets and reduces stubborn cellulite, helping to improve skin texture. 
Invigorating Ingredients: Infused with invigorating coffee oils and potent caffeine, which are known for their skin-firming properties. 
Skin Refinement: Works tirelessly to sculpt and refine your silhouette, promoting a smoother and more toned appearance. 
Natural Elements: Contains Red Jasper, an earthy crystal, to add a unique and holistic touch to the formula.
Luxurious Experience: Offers a luxurious and pampering experience while addressing cellulite concerns, making it a valuable addition to your skincare routine.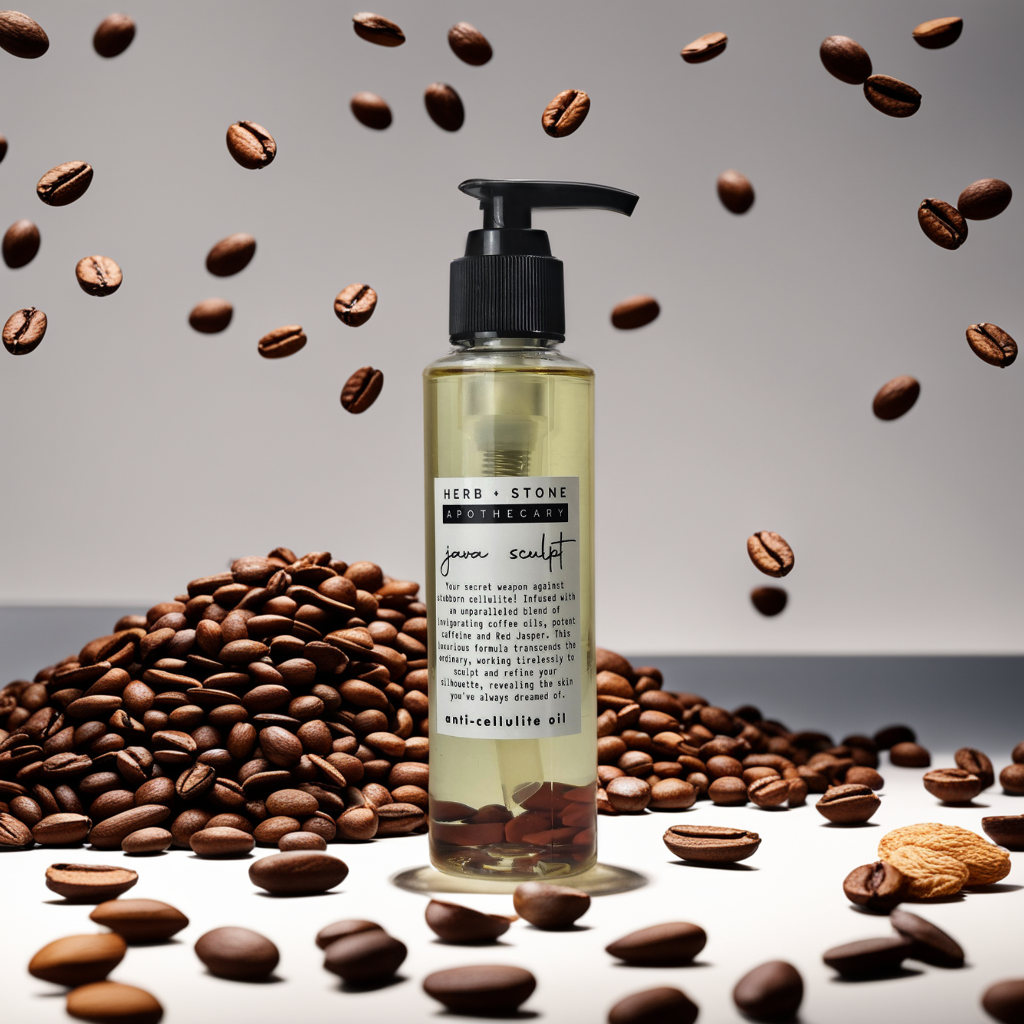 HARAKEKE OIL Improves Circulation, moisturizes and nourishes the skin, contains natural compounds that can contribute to skin tightening, potentially reducing the dimpled appearance of cellulite.
CURATED COMBINATION OF COFFEE OILS which contains caffeine, and known for the ability to stimulate blood circulation when applied to the skin. Improved circulation helps break down fat cells and toxins, reducing the appearance of cellulite.
ALMOND OIL rich in fatty acids, which help to lock in moisture, keeping the skin hydrated, softer and smoother, promoting a more supple and toned appearance.
 INFUSED WITH RED JASPER which can promote improved blood flow to the skin which improves skin tone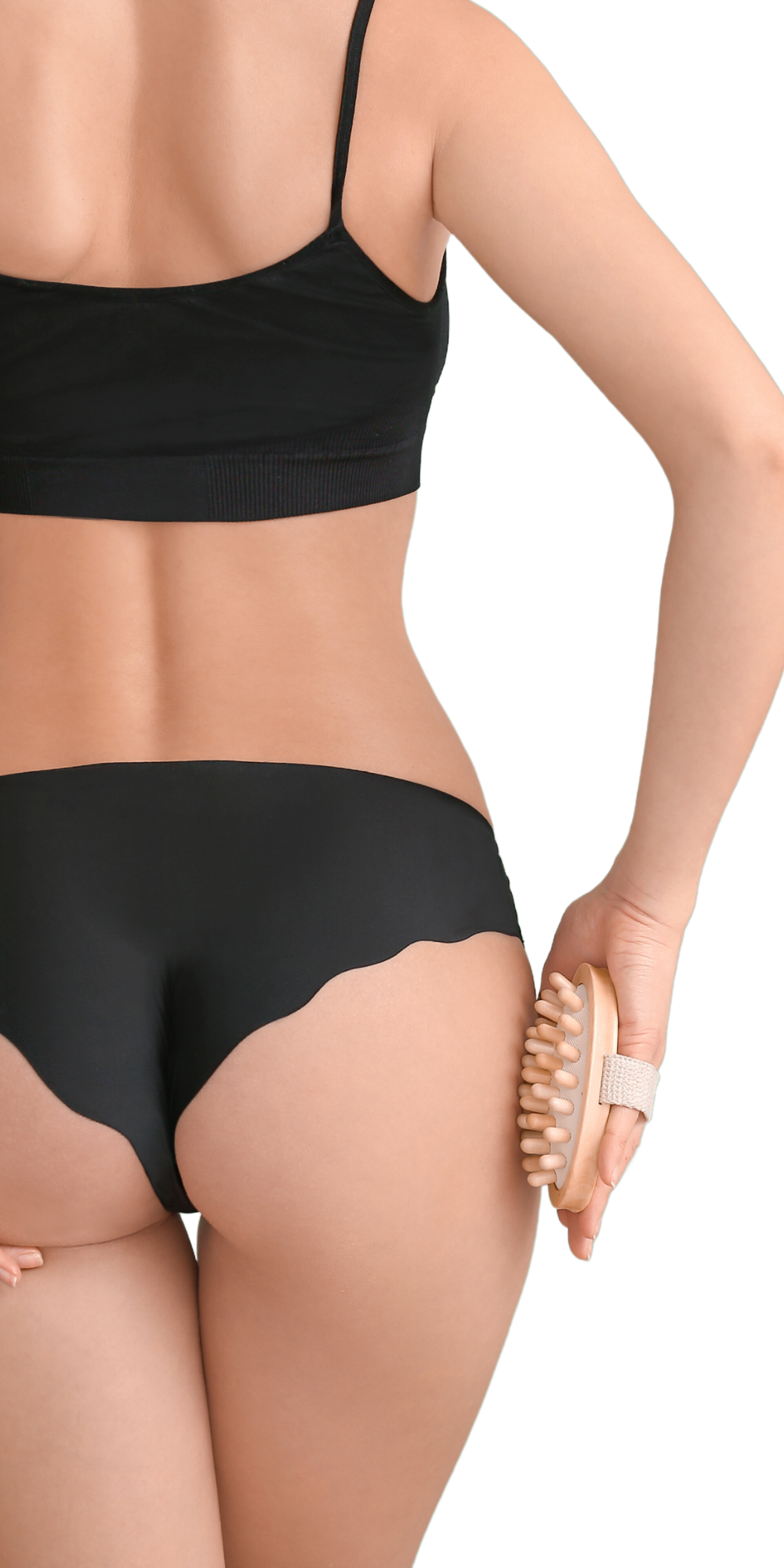 THE RITUAL
Prepare Your Space: Find a comfortable and private space where you can perform this ritual without interruptions.  
Apply on Cleansed Skin: This is best to use directly after a warm shower on towel dried skin 
Apply the Oil: Pour a generous amount of our all-natural Java Sculpt anti-cellulite oil into your palms. We recommend starting with a quarter-sized amount and adding more if needed. The key here is to ensure your skin feels slick but not overly greasy. 
Massage with Your Hands: Rub your hands together to warm up the oil, then gently apply it to the targeted areas like thighs, buttocks, or stomach. Use circular motions to massage the oil into your skin until it's partially absorbed. 
Use the Massager: Now take your cellulite massager and begin to move it around your targeted areas in vigorous circular motions. The pressure should be firm, but it should never cause discomfort or pain. 
Focus on Problem Areas: Spend about 5 minutes on each area, really working the massager into those spots where cellulite tends to gather. The massager boosts circulation, helping to break down fatty deposits and smooth out the skin. 
Clean Your Tools: Don't forget to clean your massager after each use! Simply rinse it under warm water and pat dry. 
We suggest performing this ritual 3-4 times a week for best results.Remember, consistency is key!