Regular price
Sale price
$45.00 USD
Unit price
per
Sale
Sold out
Immerse yourself in the mystical allure of our Lunar Bath Ritual Set, a celestial collection of 4 bath soaks designed to harmonize with the phases of the moon. This luxurious set blends the art of beauty and wellness with a holistic approach, using natural organic ingredients and potent crystals. It's a sacred bathing ritual that pampers your Body + Mind + Spirit, and is an exquisite gift for those enchanted by lunar magic.
Share
View full details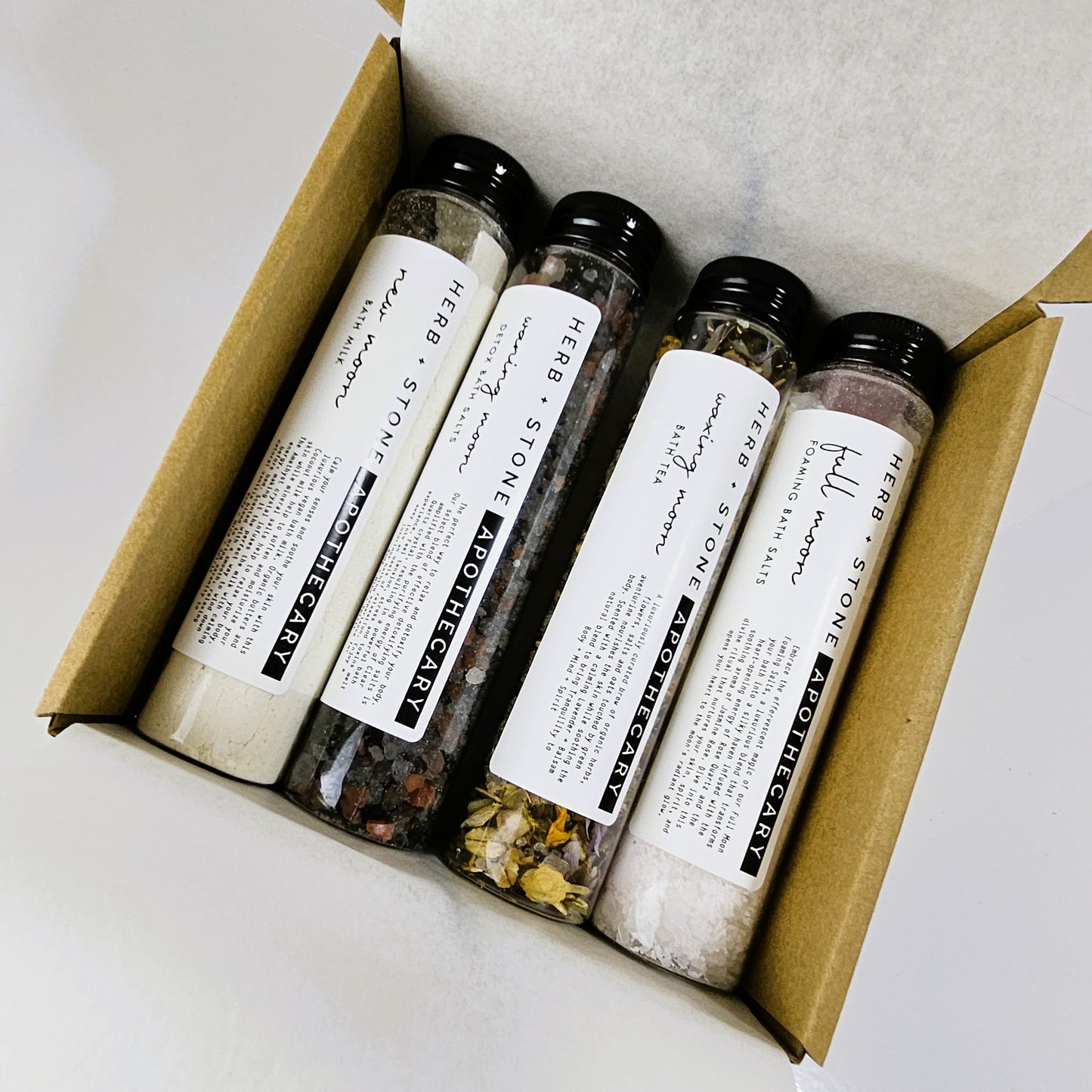 This Lunar Bath Set is more than a bath routine; it's an invitation to a dreamy escape under the moonlight, a mystical journey that engages the senses and fosters well-being. Each product in this set is a testament to nature's potency, carefully curated to offer an effective, mindful beauty experience. It's a gift of relaxation, tranquility, and rejuvenation wrapped in one enchanting package.
Begin your journey with our New Moon Bath Milk. Infused with the calming
energy of Amethyst crystal, this luxurious potion combines coconut milk and
organic butters to soften and moisturize your skin. Mineral salts melt away
tension, while a smooth, relaxing natural vanilla aroma fills your senses,
preparing you for a serene slumber.
Next, indulge in the Waxing Moon Bath Tea. A lavish brew of organic
herbs, flowers, salts, and oats, touched by the soothing energy of Green
Aventurine. This blend nourishes your skin and relaxes your body, while a
calming Lavender + Balsam scent invites tranquility into your bathing ritual.
As the moon wanes, soak in our Waning Moon Detox Bath Salts. A potent
fusion of detoxifying agents, Black Hawaiian and Himalayan salts, amplified
with the purifying energy of Clear Quartz crystal. The invigorating Eucalyptus
aroma calms the mind, as your muscles succumb to the soothing salts, releasing
toxins into the water.
Finally, celebrate the full moon with our Full Moon Foaming Bath Salts.
They transform your bath into a silky haven, infused with the heart-opening
energy of Rose Quartz. The intoxicating aroma of Jasmine Rose fills the air,
nurturing your spirit and illuminating your heart to the moon's radiant glow.