Regular price
Sale price
$65.00 USD
Unit price
per
Sale
Sold out
Immerse yourself in the enchanting allure of our Deluxe Scent Set, a celestial fusion of beauty and wellness, meticulously designed to elevate your senses and nourish your spirit. This opulent duo combines the power of nature's essence with potent crystal energy, creating a holistic, effective, and mindful beauty experience. Each product in this set is a testament to the art of natural perfumery, thoughtfully curated to inspire serenity and well-being.
AVAILABLE IN 2 AMAZING SCENTS
BOLD SCENT PROFILE- A magical combination of warm and sensuous spices energized by tigers eye creates a soothing yet bold fragrance. This luxurious natural scent is perfect for those who want to feel confident and fabulous and make you feel like the goddess you are!
SULTRY SCENT PROFILE- An exotic and sensuous natural blend infused with the power of rose quartz. Crafted to bewitch and tantalize the senses, its exotic aroma will linger after you've gone, an alluring scent that is sure to leave your admirers mesmerized by your mystical aura.
Share
View full details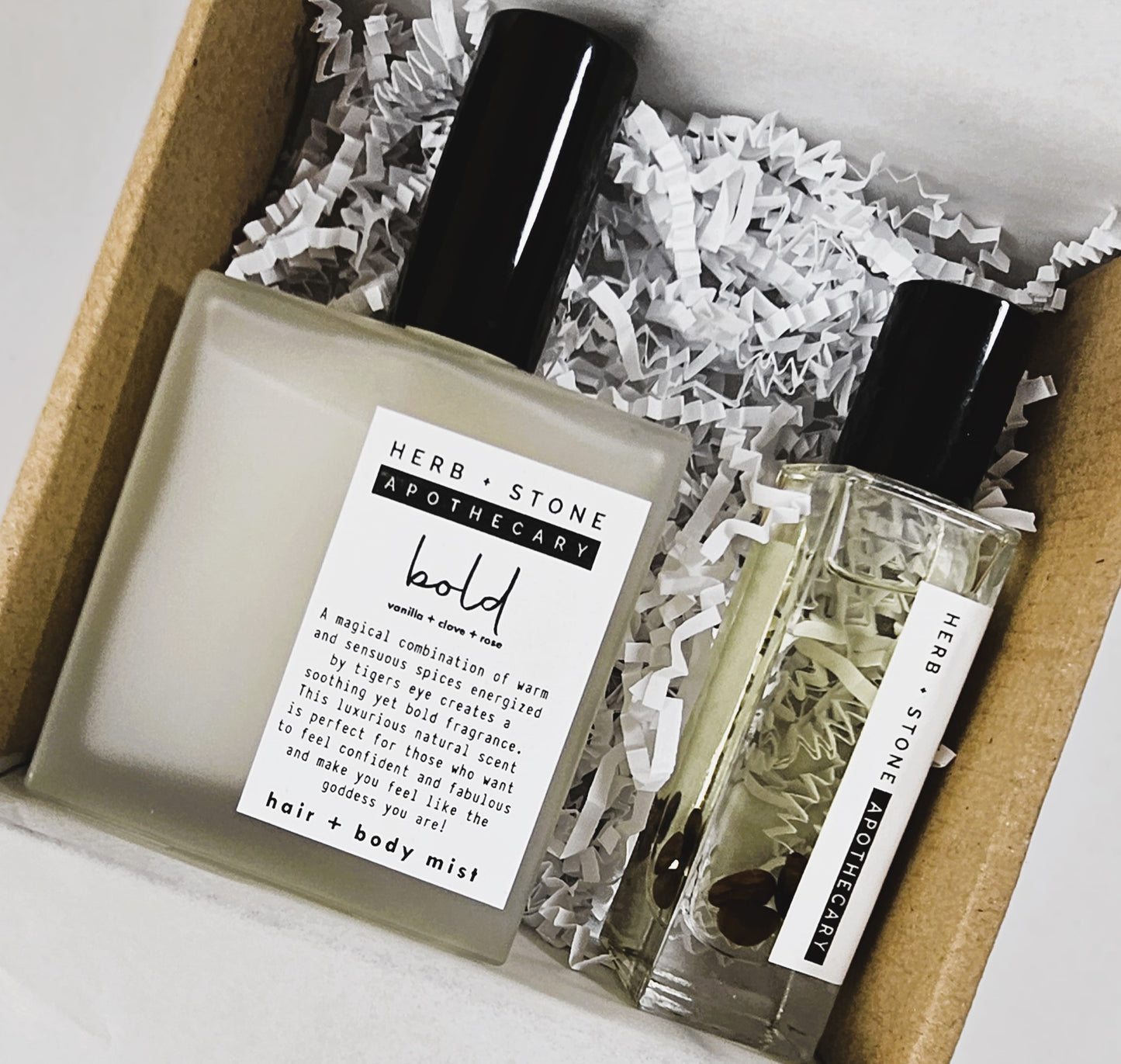 The Deluxe Scent Set is not just a collection of fragrances; it's aninvitation to a transformative ritual of self-love and care. The harmonious blend of natural ingredients and crystal energy fosters an atmosphere of serenity and balance, promoting a deep sense of rejuvenation.
Begin your sensory journey with our All-Natural Perfume Oil. A symphony
of botanical essences, this perfume oil is a luxurious elixir that envelopes
you in a cloud of divine aroma. Its intoxicating scent is derived from a blend
of organic flowers, herbs, and woods, each drop infused with the transformative
power of crystal energy. As you apply this oil, feel your spirit uplifted and
your aura cleansed, radiating positivity and tranquility.
Next, indulge in the refreshing mist of our Hair and Body Mist. This
versatile product is a soothing cascade of natural fragrances, formulated to
hydrate and rejuvenate your skin and hair. Infused with the potent energy of
precious crystals, this mist is more than a fragrance; it's a powerful tool for
self-care and mindfulness. A few spritzes, and you are enveloped in an
invigorating aura that promotes overall well-being.