Regular price
Sale price
$24.00 USD
Unit price
per
Sale
Sold out
A curated blend of natural, organic botanicals and extracts, all energized by the power of clear quartz. This harmonious fusion of organic coconut milk, clay, oats, marshmallow root, and cucumber works in synergy to restore the natural balance of your skin. Our mask immerses your skin in a cocoon of wellness, with organic coconut milk that soothes dryness and improves complexion, and kaolin clay that detoxifies pores, promotes cell regeneration, and brightens dull skin. The addition of antioxidant-rich colloidal oats calms irritation, while marshmallow root conditions your skin, leaving it supple and soft. Energized by clear quartz, this mask not only nourishes your skin but also balances your energy. It's more than a skincare product; it's a step towards mindful beauty.
INGREDIENTS

Kaolin Clay, Dehydrated Coconut Milk (Organic Coconut Milk), Avena Sativa (Colloidal Oat), Althaea officinalis(Marshmallow root), Cucumis sativus (Cucumber Peel), Aloe barbadensis, Clear Quartz
Share
View full details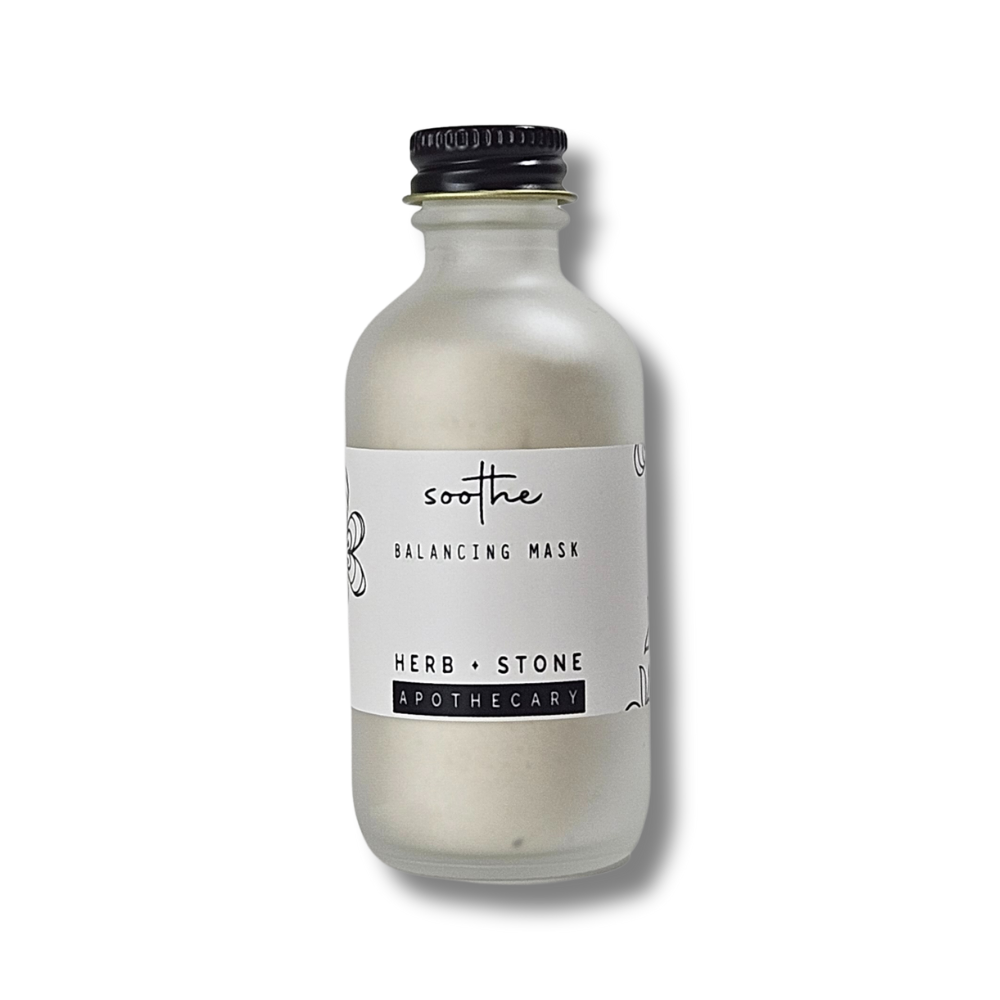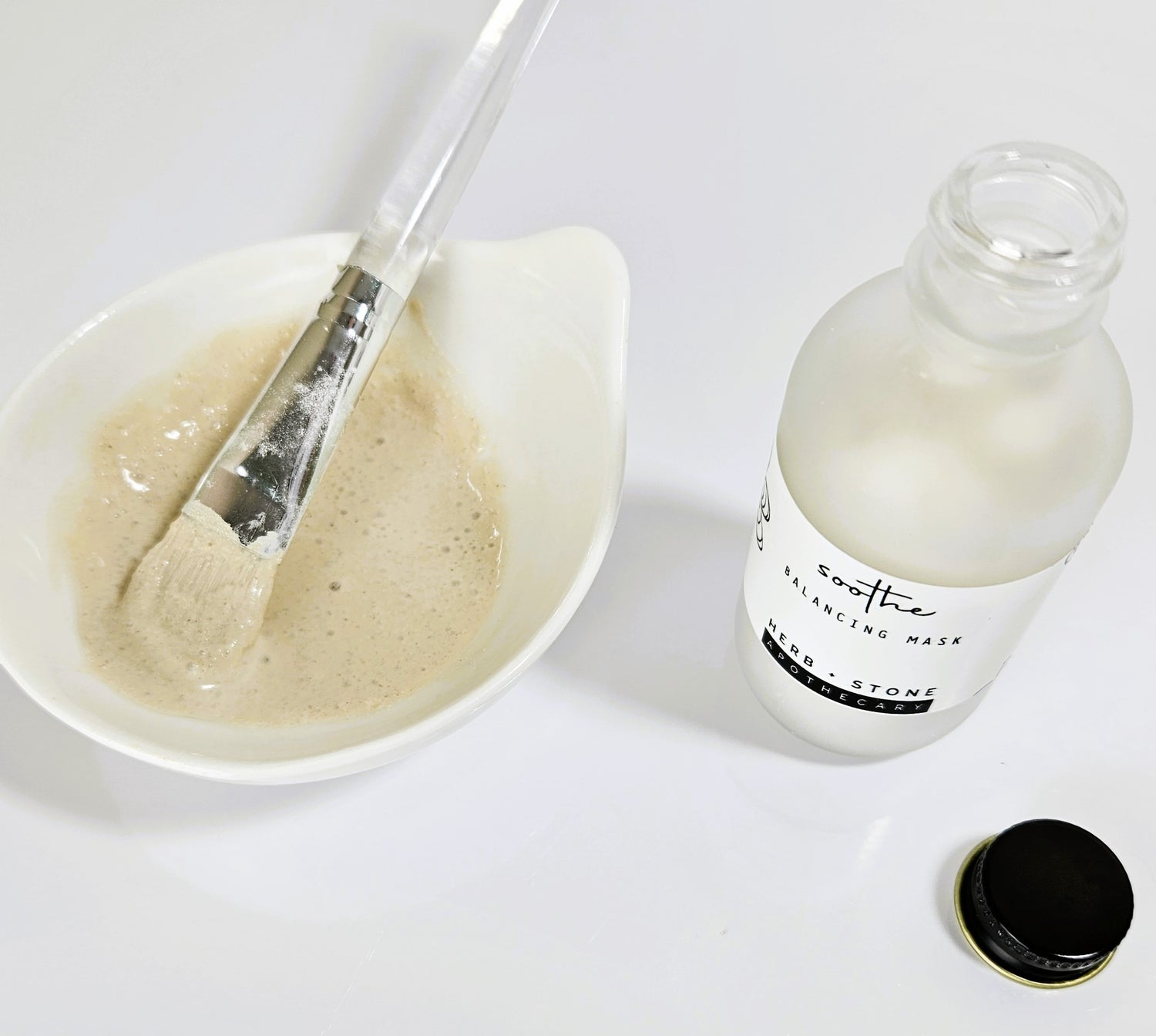 BENEFITS
Soothing Hydration: The organic coconut milk in our mask envelops your skin in a soothing cocoon, banishing dryness and enhancing your complexion with its rich, creamy texture.
 Deep Detoxification: Kaolin clay works its magic by detoxifying your pores, promoting cell regeneration, and illuminating dull skin to reveal a fresh, radiant complexion beneath.
Calm & Comfort: Imbued with the antioxidant-rich colloidal oats, our mask calms irritation and redness, offering a sense of comfort and tranquility to your skin.
Supple Softness: Marshmallow root conditions and softens your skin, enhancing its natural suppleness and giving it a velvety touch.
Refreshing Revitalization: Cucumber peel refreshes and revitalizes, leaving your skin feeling renewed, cool, and invigorated.
Energetic Balance: Energized by clear quartz, this mask not only nourishes your skin but also balances your energy, offering a truly holistic beauty experience that extends beyond the surface.
For Best Results: Incorporate Soothe Mask into your skincare routine at least 1x per week and experience the transformative power of nature's best-kept secrets.
Soothe and Balance your skin for a healthier, more radiant glow!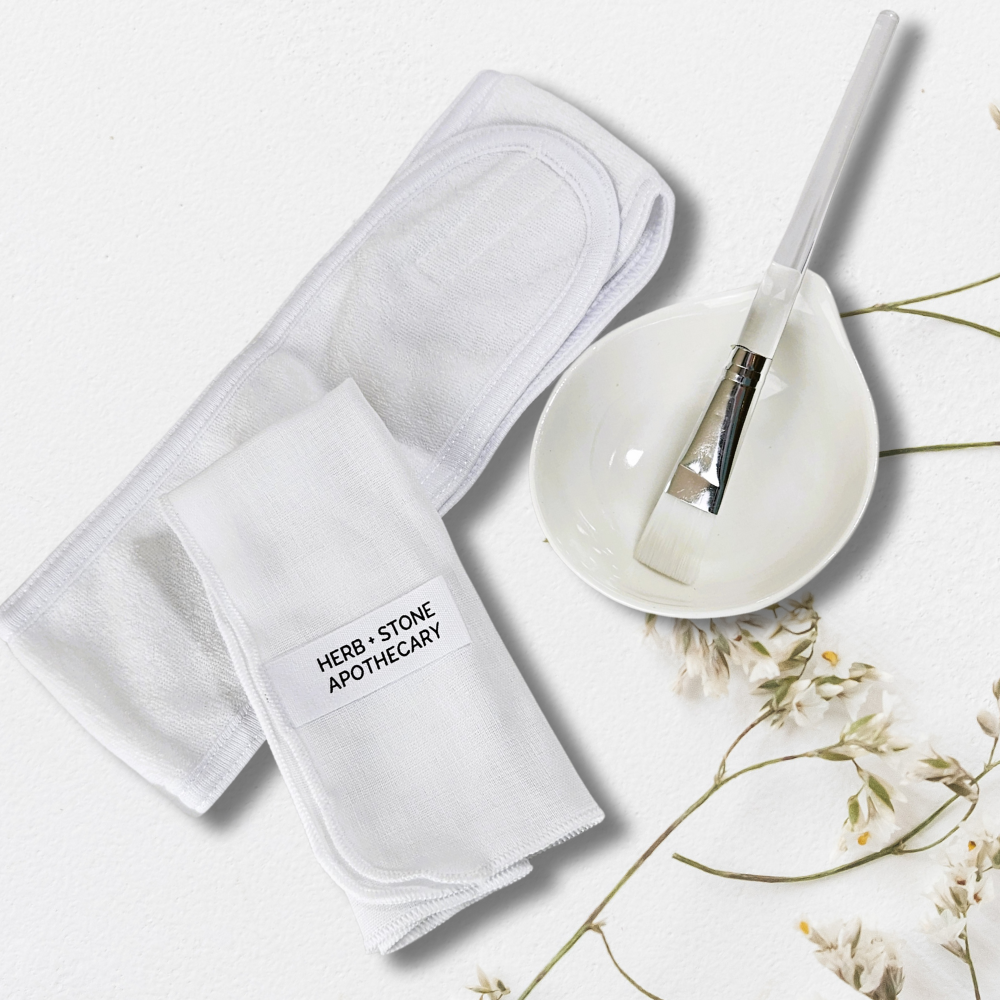 FACIAL MASKING SET
Immerse yourself in a holistic skincare ritual with our enchanting Masking Accessory Set. Crafted with intention and care, this set includes a pristine White Ceramic Dish, a sumptuously soft Terry Headband, an expertly designed Masking Brush, and a gentle Organic Muslin Face Towel. Each element of the set serves a unique purpose, combining to create a skincare experience that's as luxurious as it is beneficial. The ceramic dish holds your potent Blue-Green Algae & Vegan MSM Mask, while the terry headband keeps your locks away from your face as you apply your mask with the smooth, precise brush. Finally, the organic muslin towel gently lifts away the mask, revealing your refreshed, glowing complexion. Elevate your beauty routine with this exquisite set, perfectly complementing our nutrient-rich mask for a truly radiant, holistic skincare experience.
SHOP MASKING SET