Regular price
Sale price
$48.00 USD
Unit price
per
Sale
Sold out
Indulge in the tranquility of our Sweet Dreams Set, a divine ensemble designed to lull your senses into a state of serene relaxation. This luxurious trio combines the power of natural organic ingredients and potent crystals to create a holistic, effective, and mindful beauty experience. Each product is meticulously crafted to promote wellness and enhance your bedtime routine.
This set makes a thoughtful gift for someone special in your life. It's not just a present; it's an invitation to a dreamy escape, a mystical journey that engages the senses and fosters well-being. Offer yourself or loved ones the gift of relaxation, tranquility, and rejuvenation wrapped in one enchanting package.
Share
View full details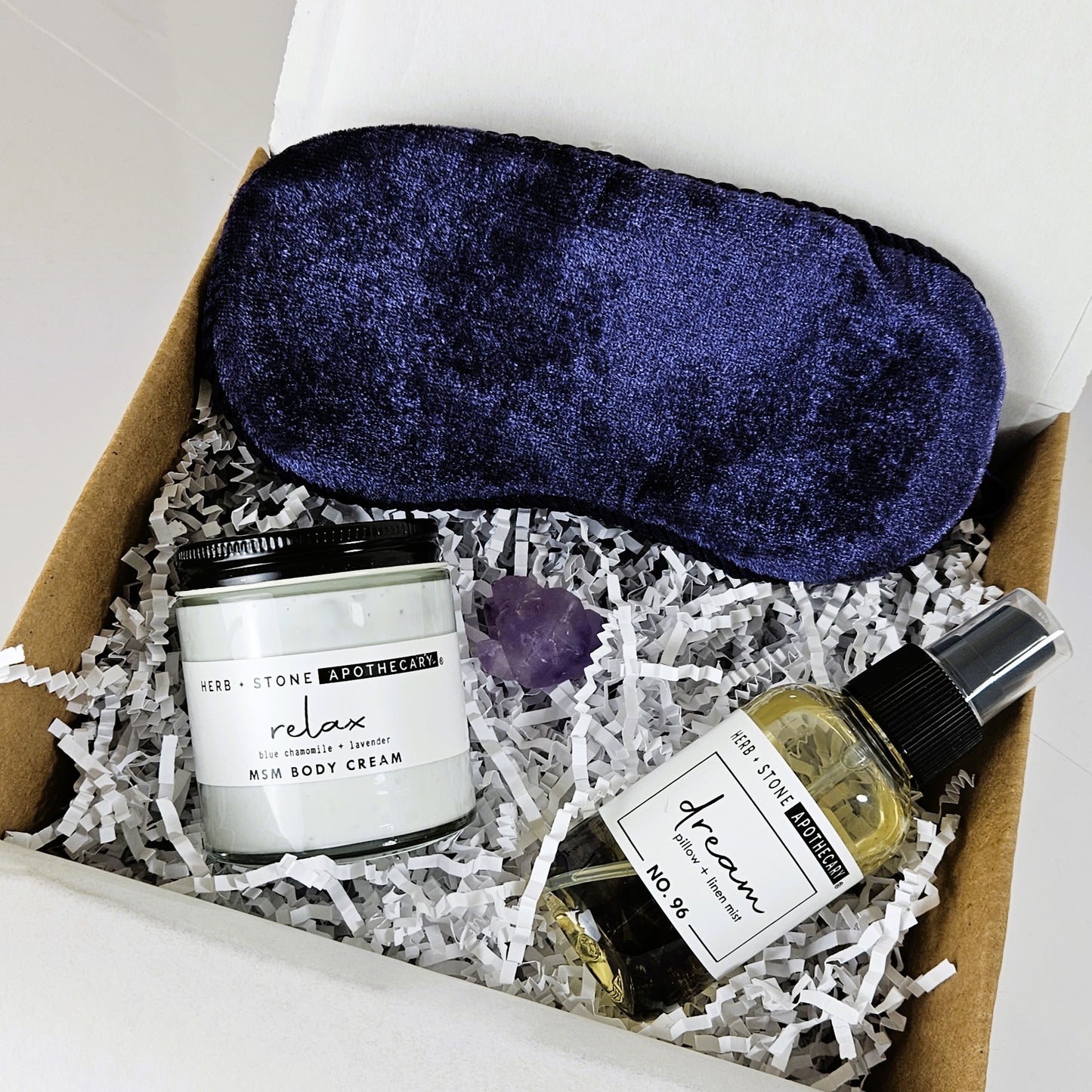 The Sweet Dreams Set is not merely a collection of sleep aids; it's a holistic ritual that encourages relaxation and peace. The three components work synergistically, creating an atmosphere of serenity and promoting a deep, rejuvenating sleep. It's the perfect way to end your day, a pampering routine that fosters well-being and invites sweet dreams.
Begin your pre-slumber ritual with our Relax MSM Body Crème. This velvety
potion is a symphony of luxury that leaves your skin feeling supple, soft, and
beautifully toned. Infused with MSM, a natural compound known for its ability
to ease tired muscles and reduce inflammation, this crème is perfect for a
soothing massage before bed. The silky texture glides effortlessly on your
skin, releasing tension and preparing your body for a night of restful sleep.
Next, set the stage for tranquility with our Dream Pillow and Linen Mist.
This aromatic elixir carries an all-natural fragrance of calming lavender and chamomile,
creating a serene and welcoming environment. Infused with Amethyst crystals,
this mist enhances the relaxing effect, evoking a sense of peace and
relaxation. A few spritzes on your pillow and linen, and you've transformed
your space into a haven of tranquility.
Finally, embrace the darkness with our Silk and Velvet Sleep Mask. This
plush mask provides total darkness, essential for a deep and restorative sleep.
It's a gentle touch of luxury that comforts your eyes, blocking out the
distractions of light.