Regular price
Sale price
$24.00 USD
Unit price
per
Sale
Sold out
Natural, vegan, and nourishing alcohol-free body and hair fragrance mist. This unique combination of botanical essences, crystal energy, and herbal extracts will leave you feeling invigorated and refreshed with a beautiful luxurious long-lasting scent. Spritz from head to toe—and spray anytime anywhere- no matter where your day or night takes you!
3.4OZ | 155ML
INGREDIENTS

Aloe Barbadensis, Phenoxyethanol, Hamamelis Virginiana, Salix Alba,Melaleuca Alternifolia, Polysorbate 20, Tetrasodium Glutamate Diacetate, Natural Fragrance, Crystals
Share
View full details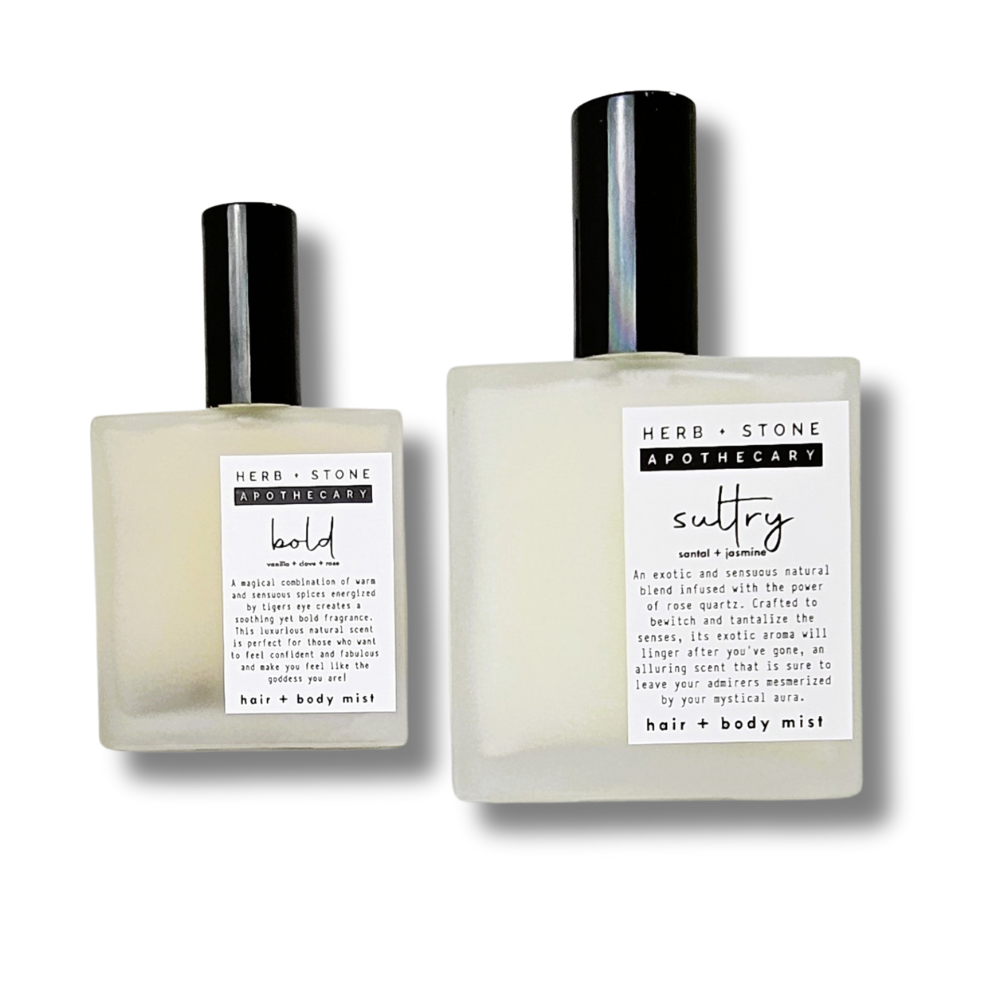 Benefits:
Revitalize Your Beauty Routine! Our new hair and body mist is an all-in-one wonder product! Imagine starting your day with a spritz of our mist that leaves you feeling invigorated, refreshed, and ready to conquer the day. It's perfect for those on-the-go moments when you need a quick pick-me-up. Say goodbye to carrying multiple products and hello to convenience and efficiency!
Luxurious Natural Ingredients! We've harnessed the power of Mother Nature to bring you a product like no other. Infused with botanical extracts and essential oils, our mist not only smells divine but also nourishes your skin and hair. Feel the difference with every spray as these natural ingredients work their magic!
Scientifically Formulated For Maximum Benefit! Backed by science, our mist is designed to hydrate, and refresh your skin and hair. It's like having your very own spa treatment at home!
Experience The Spiritual Lift! Our mist isn't just about looking good, it's about feeling good too. With each spray, let the soothing aroma transport you to a place of tranquility and peace. It's more than just a grooming product - it's a mini escape in a bottle!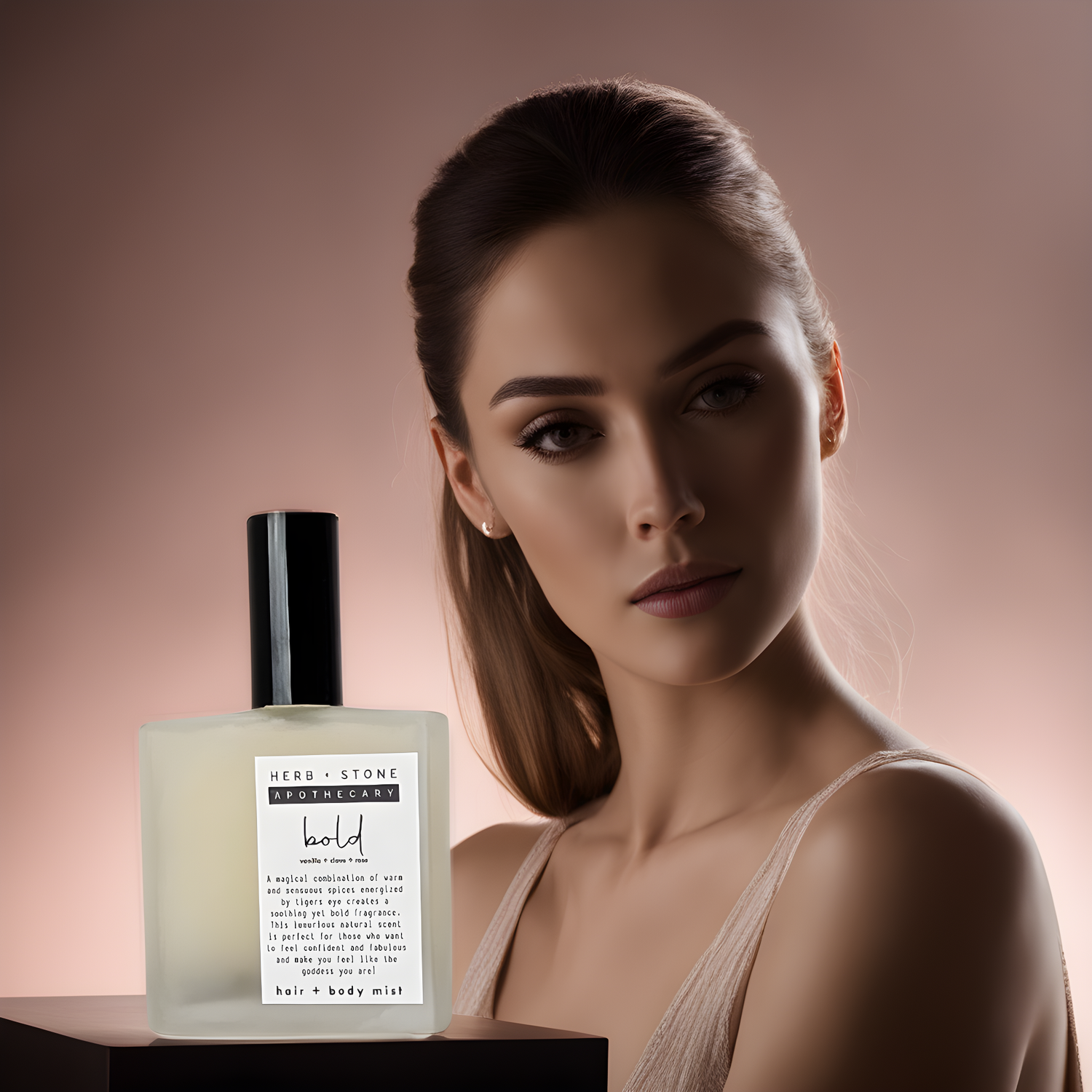 BOLD
A magical combination of warm and sensuous spices energized by tigers eye creates a soothing yet bold fragrance. This luxurious natural scent is perfect for those who want to feel confident and fabulous and make you feel like the goddess you are!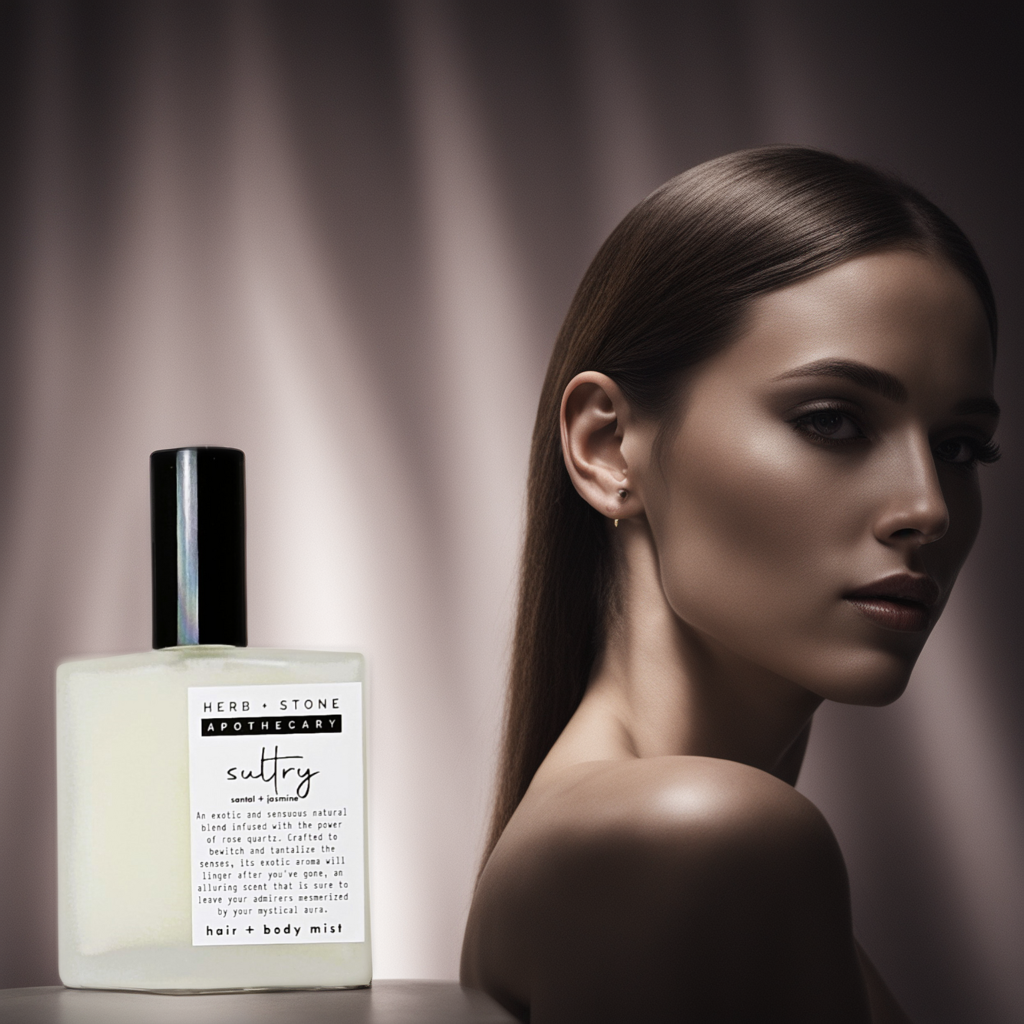 SULTRY
An exotic and sensuous natural blend infused with the power of rose quartz. Crafted to bewitch and tantalize the senses, its exotic aroma will linger after you've gone, an alluring scent that is sure to leave your admirers mesmerized by your mystical aura.