Regular price
Sale price
$24.00 USD
Unit price
per
Sale
Sold out
The ultimate in body butters - So much skin nutrient goodness packed in one jar. An abundance of natural butters, oils, and extracts to make your skin deeply nourished, soft, supple, hydrated & glowing without any greasiness. Locks in moisture for even the most dehydrated & driest of skins.
INGREDIENTS

water, organic butyrospermum parkii butter, organic Tucuma Seed Butter, organic Murumuru Seed Butter, Glycerine, Polyglyceryl-3 Dicitrate Stearate, organic Sunflower Carrier Oil, Glyceryl Stearate, Myristyl myristste, cetearyl alcohol, natural fragrance, crystal
Share
View full details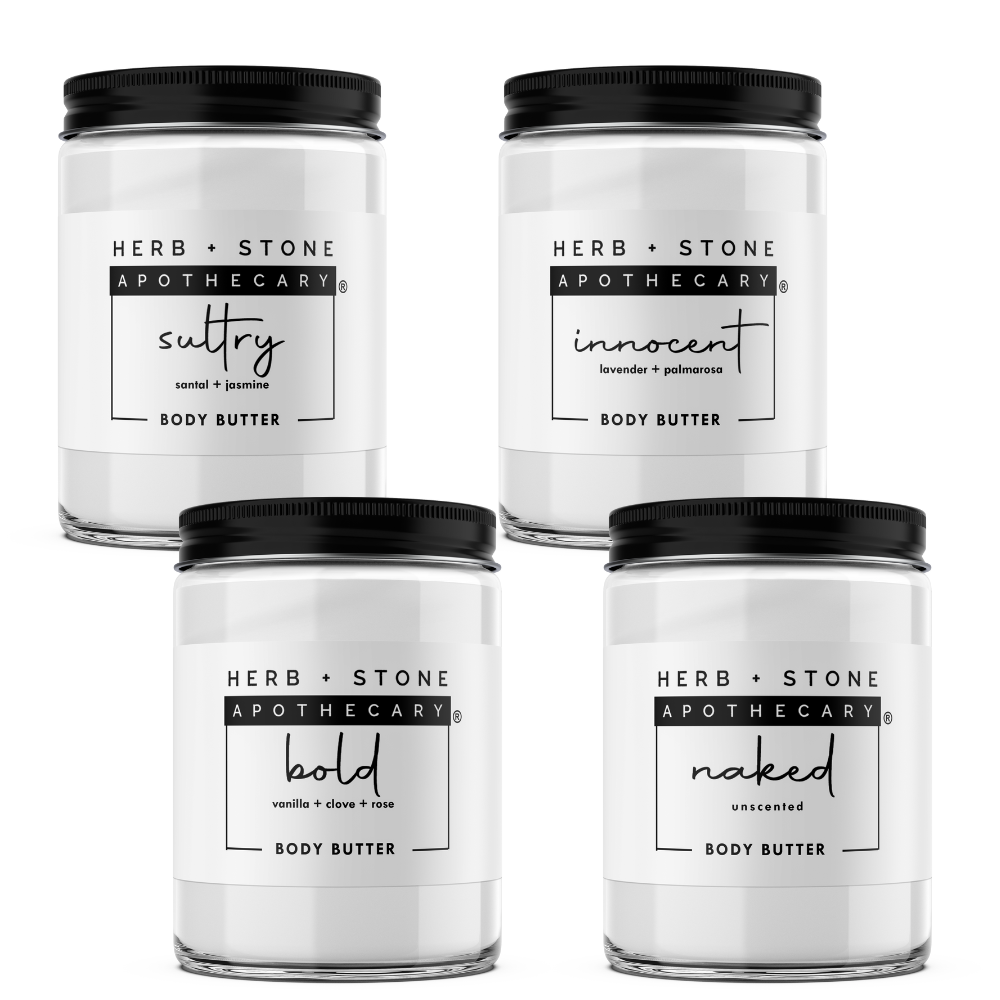 Benefits:
Intense Hydration: Provides deep and lasting hydration to keep skin soft and supple.
Nutrient-Rich: Packed with natural butters, oils, and extracts for essential skin nourishment. 
Non-Greasy: Leaves skin glowing without any greasy residue.  
Moisture Lock: Locks in moisture, especially effective for dry and dehydrated skin.
Skin Softening: Helps soften and smoothen the skin's texture.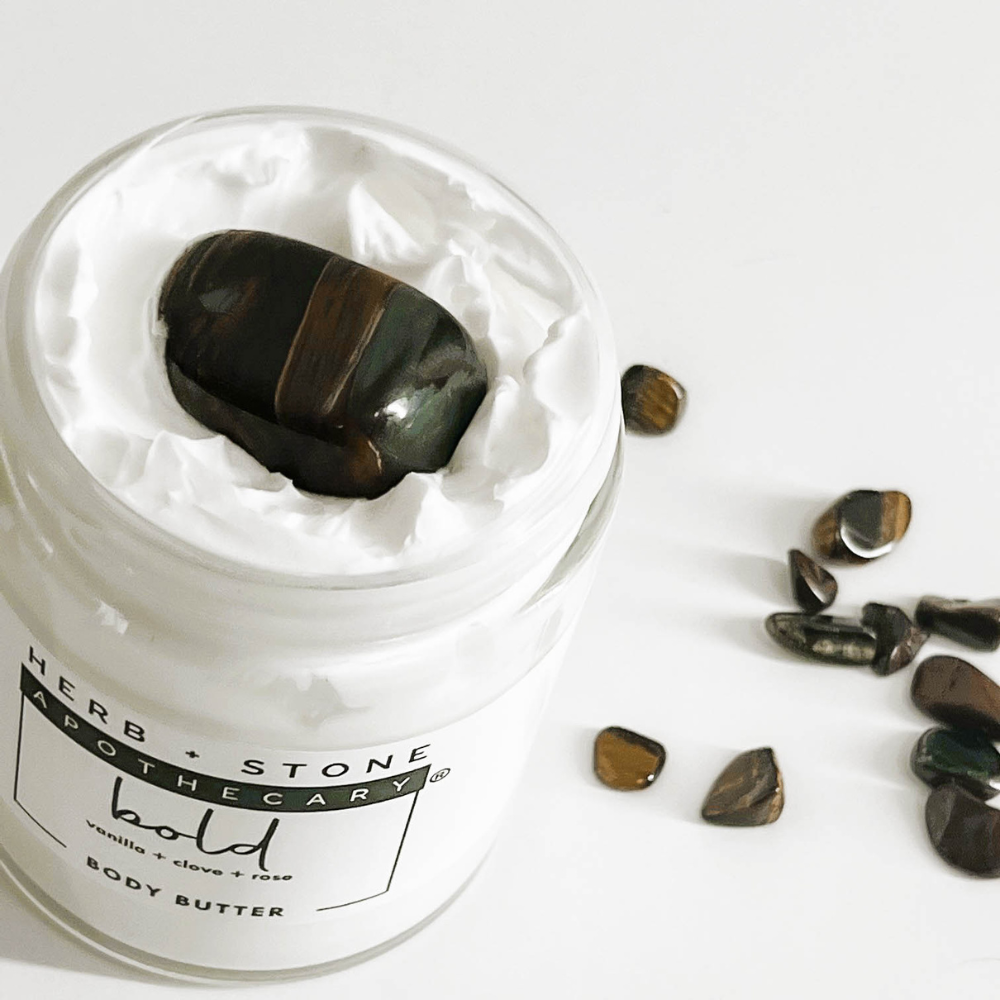 BOLD
A magical combination of warm and sensuous spices energized by tigers eye creates a soothing yet bold fragrance. This luxurious natural scent is perfect for those who want to feel confident and fabulous and make you feel like the goddess you are!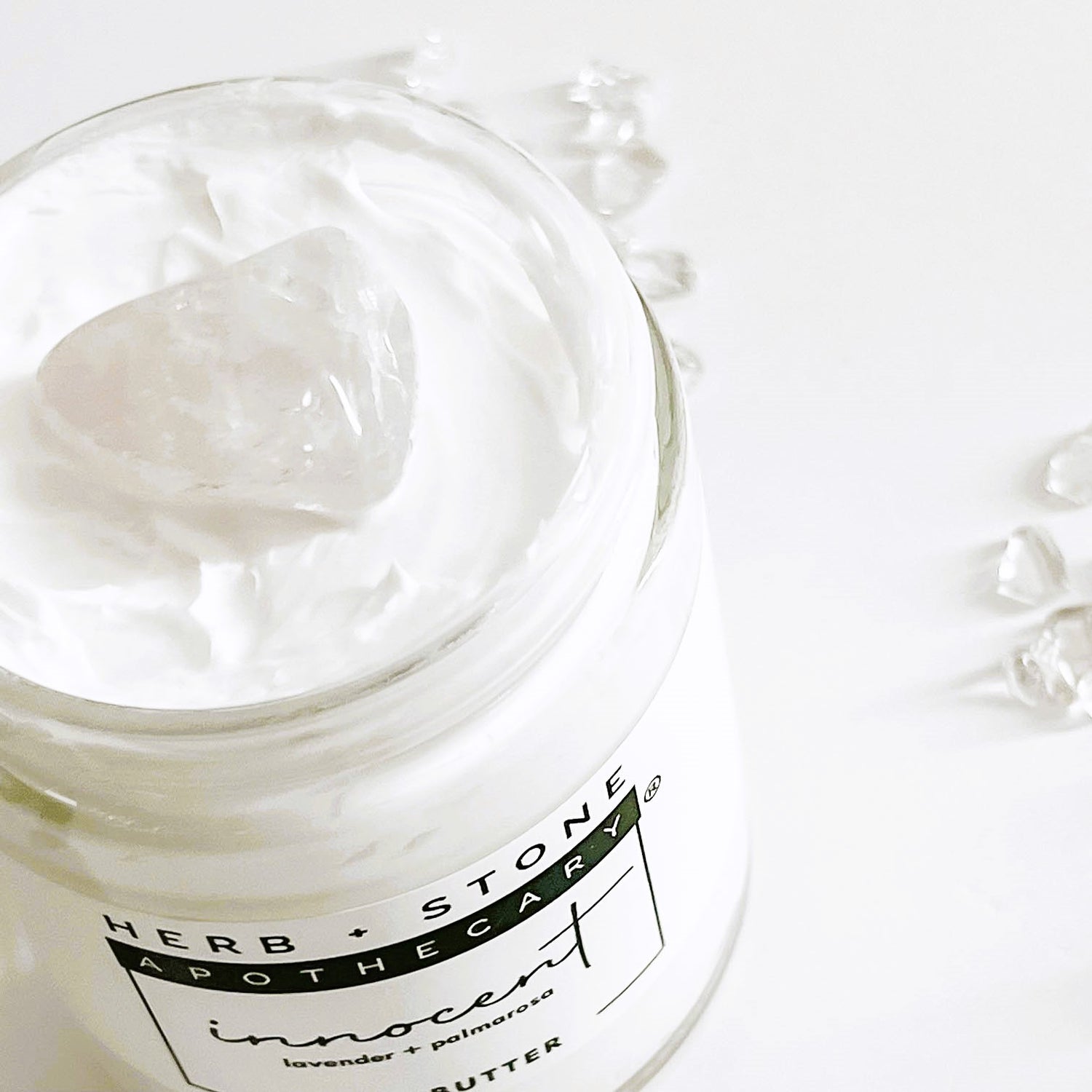 INNOCENT
An enchanting scent that captures the essence of innocence and purity. A soft, clean, and powdery natural scent energized by the power of clear quartz crystals. With its plush, comforting aroma – layered with delicate, powdery floral notes – it will make you feel soothed, uplifted and evoked.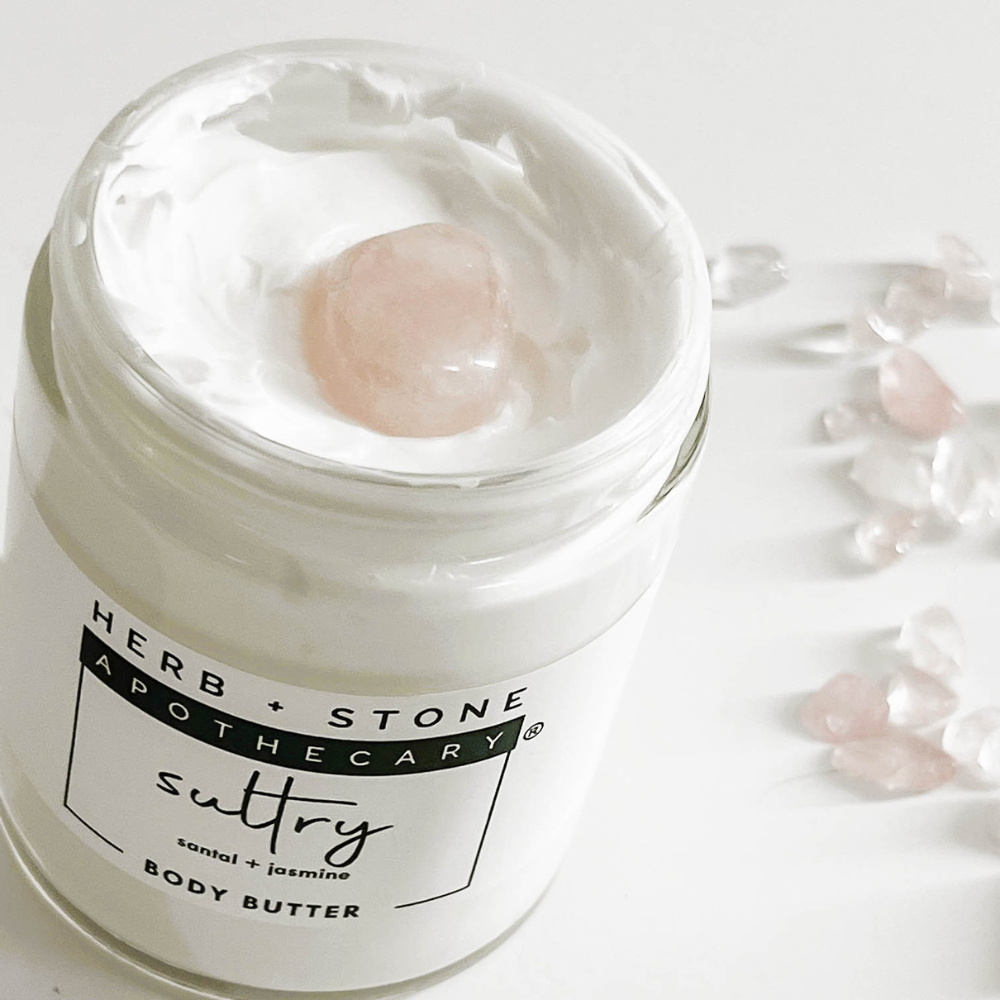 SULTRY
An exotic and sensuous natural blend infused with the power of rose quartz. Crafted to bewitch and tantalize the senses, its exotic aroma will linger after you've gone, an alluring scent that is sure to leave your admirers mesmerized by your mystical aura.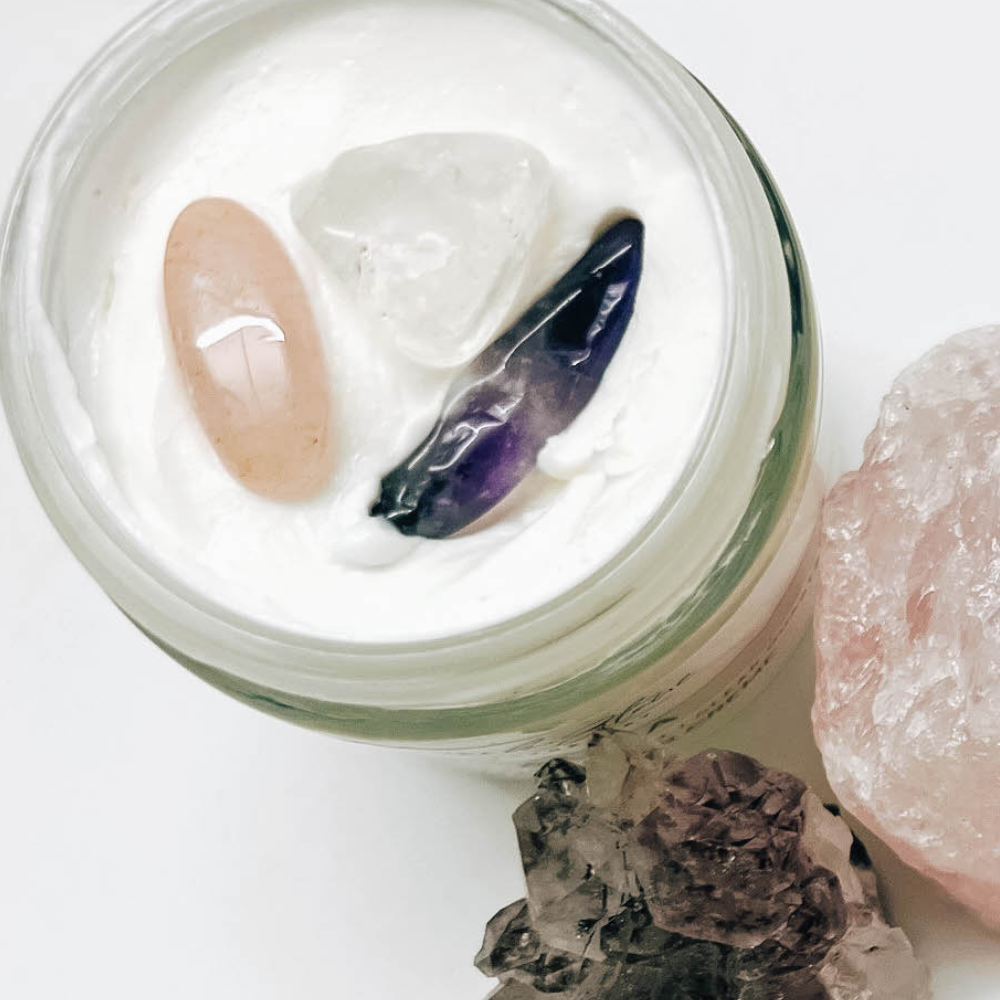 AURA
Experience the intoxicating scent of the Tahitian gardenia. Tiare flower combined with the powerful benefits of Rose Quartz, Amethyst, and Clear Quartz crystals come together to produce a sweet and calming scent. With every breath you'll feel the peace emanating from this sweet fragrant blend that will soothe your body + skin + spirit.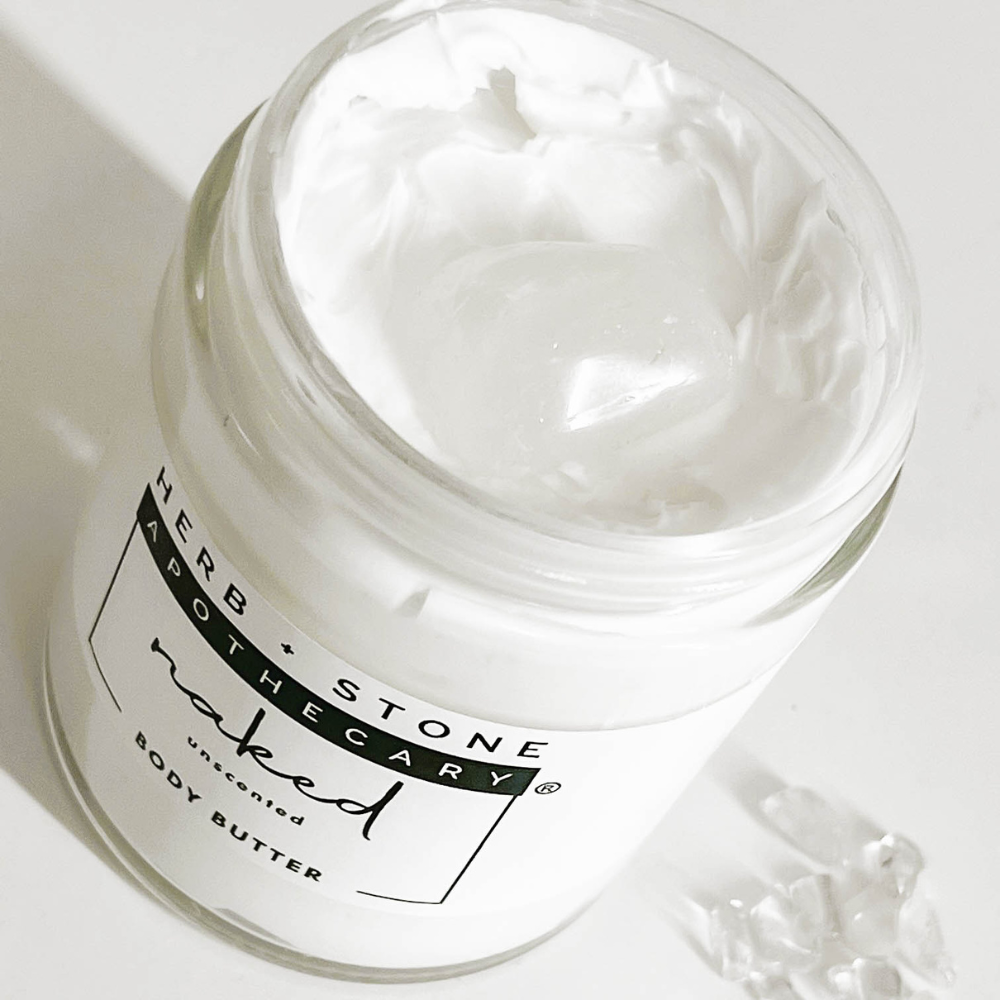 NAKED
Get all the skin loving benefits without the scent. A great option for anyone who is sensitive to
fragrances or who simply prefer products that do not have a noticeable scent.